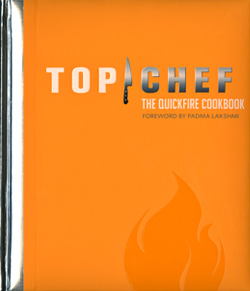 On the TV show Top Chef, contestants create dishes to impress the judges often with limited resources of time or money or ingredients. From a viewer's perspective, the biggest problem with the show is that you can't taste the food. Still I love it. Perhaps it's because I enjoy the challenging aspects of cooking--like every other home cook, I am challenged to use what ingredients I have and the techniques I know, to cook something delicious, day after day, night after night.

Sometimes I wonder if I would agree with the judges. And I wonder how good those cooked-in-a-flash dishes with barely any ingredients really taste. I may never bother cooking something sous vide, break down an entire side of beef or serve 200 guests in one evening, but I'm happy to say I can now duplicate various dishes presented in the quickfire challenges on Top Chef thanks to Top Chef: The Quickfire Cookbook
.

Top Chef: The Quickfire Challenge Cookbook features mostly recipes that home cooks can easily duplicate. They don't take much time or many exotic ingredients. Some of them are straight forward like Mia's Bean Salad that's basically three bean salad with a few twists--fresh mint, capers, canned beets and artichoke hearts all served over salad greens. Other dishes are more sophisticated like Jennifer's Shrimp and Scallop Beignets. There are desserts, breakfast dishes, salads, entrees, soups and even a few cocktails. Recently I got a chance to try Jamie's Chickpea Soup and it was divine. It's flavored with vadouvan (or use curry) and topped with a cilantro, mint and lemon zest spiked yogurt.

There are lots of fun features that will appeal to Top Chef fans in the book, little inside peeks at the filming, contestants and chances to test your foodie IQ. Something I especially like are the detailed instructions on some "molecular gastronomy" style dishes and flourishes you can make at home. Andrew's Faux Caviar made from tapioca pearls seasoned with balsamic vinegar and soy sauce is top on my list to try! So too are Stephanie's White Ale-Orange Juice Mussels, Radhika's Kebab Sausage with Tomato Jam and Hung's Chocolate Pie with Bananas.

Top Chef: The Quickfire Challenge Cookbook is just a tremendously accessible and fun book to dig into. It's perfect for fans of the show or anyone wanting to try to add a bit more flair to their cooking.
Amy Sherman is a San Francisco–based writer, recipe developer, restaurant reviewer and all around culinary enthusiast. She blogs for Epicurious , Bay Area Bites and Cooking with Amy .