Nothing says New England like a good old-fashioned clambake. This is a modern clambake, with lobster rolls substituting for the classic clams (and clam chowder on the side). And it's versatile: this party can be thrown indoors or outdoors, and almost every dish can be made ahead.
The best clambake I ever attended was on Temperance Island, a private island in Connecticut owned by my sister Molly's in-laws, Susan and Sandy Kellogg, affectionately known as Su-Su and Pops. The Kelloggs grew up on the water, and they open their house from April to November. The first time I visited, I felt as if I were in a Norman Rockwell painting. Sitting on the big, wide porches, digging steamers outside the front door at low tide, and living without electricity sends you back in time. We pulled our own lobster traps and had a feast of fresh lobster, clam chowder, and fresh corn.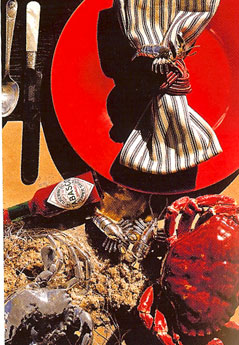 But you don't need to live by the water to enjoy a clambake. It can be just as much fun on a picnic table in the backyard or on a kitchen table. If you do want to serve the classic clambake (boiled lobsters, clams, corn, and potatoes), there are plenty of companies that will ship the ingredients, pot and all, so you can feast anywhere, anytime. Many seafood shops also sell clambakes – ask your local fish store or gourmet grocery store. Otherwise, just order cooked lobsters. If you can't get lobster, substitute crabmeat and make crab rolls instead. You can find canned crabmeat year-round, and most grocery stores carry it. I love any type of crab, including Dungeness, blue crab, and stone crab, but stay away from imitation crab, which is actually made with white pollock and is flake with a bright orange color.
My favorite cocktail for a clambake is the Dark 'n' Stormy, a rum drink from Bermuda. I also serve buckets of beer, Coca-Cola in bottles, and chilled white wine or rosé to get guests in the summertime mood.
THE TASTIEST COLESLAW
My mother loves this recipe. She is a coleslaw aficionado. Everywhere she goes she orders a side of coleslaw.
Serves 8
1/4 cup mayonnaise
1 teaspoon Tabasco sauce
1 teaspoon sweet pickle relish
1 teaspoon honey
1 teaspoon mustard
1/4 teaspoon white pepper
1/8 teaspoon salt
1/4 teaspoon celery seeds
1/3 cup chopped walnuts
1/4 cup finely chopped onions
1/4 cup finely chopped celery
1/4 cup finely chopped red pepper
1/4 cup dried cranberries
5 cups shredded cabbage (4 cups green napa cabbage, 1 cup red cabbage)
Mix all the ingredients except the red cabbage together in a large bowl. Cover and refrigerate for at least 1 hour to allow the flavors to meld. Add the red cabbage right before serving, otherwise it will bleed.
DARK 'N' STORMY
I had my first Dark 'n' Stormy in Maine at my friend Bob Ireland's House, affectionately known as "The Ship." This drink is refreshing, and people seem to really like it. One of my clients, EGV, renamed the drink "the dirty rotten bastard." You gotta be careful, though – don't drink it like iced tea! It's fun to garnish with a thin round slice of floating lime or kiwi.
1 1/2 ounces Gosling's Black Seal Rum or any other dark rum
Splash of bitters (optional)
About 1/2 cup of ginger beer
1/2 lime
Fill a highball glass with ice, add the rum, a splash of bitters, if desired, and top with ginger beer. Squeeze the line into the glass, stir, and add the lime to the drink.
Excerpted from Lulu Powers Food to Flowers: Simple, Stylish Food for Easy Entertaining

© Copyright 2010 by Lulu Powers. Reprinted with permission by Harper Collins. All rights reserved