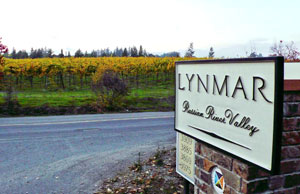 Glowing the color peachblow, I've just returned from subsidizing Sonoma's Wine Country and have this to say of their grapes: "Fussy, yet serene, bossy yet submissive, a hint of herbaceous seepweed, a scent of doleful dégringolade". At least that's the kind of verbal dexterity I wished I had displayed during tastings at Lynmar, Martinelli, Siduri, and Kosta Browne wineries (don't try to find the last one – it has no address and may not even exist). Instead I mainly stuck to: "That's a great chardonnay or – wow! – that's a really good pinot noir (if you are looking for cabernet go crash your car in Napa). I knew that Sonoma was a fun palace for wine but what caught me unawares was the high level of food to be found.
After my girlfriend Betsy and I deplaned at Sonoma County Airport in Santa Rosa, we depacked at Kenwood Inn and Spa for a four night stay (think Twin Peaks meets Fawlty Towers) and headed straight away for delunch at "the girl & the fig" in Sonoma – a perfect bistro beginning to the trip (don't miss the salt cod croquettes with white bean purée, caramelized onions, meyer lemon-herb salad). Stuffed roasted quail at Café LeHaye (also in Sonoma) would be a must have at another meal and you should be detained and questioned if you don't order the charcuterie plate at Mosaic in Forestville.
But kids, stop and listen as all of the preceding is mere adultsplay: Sell your parents (don't hold them for ransom, just get what you can), pawn your Nano, and head to the Michelin two-starred Cyrus restaurant in Healdsburg. Twice the quality and two times less the cost of the French Laundry in Yountville – this restaurant operates in a parallel universe.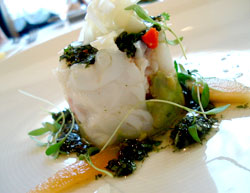 We had the five course tasting menu with select wine pairings (one wine was the Coenobium wine made by the sisters at the Cistercian monastery in Vitorchiano, north of Rome – you get the picture). REM stage dream state delights such as Chanterelle Consomme' with Roasted Chestnuts, Celery Root and Madeira; Thai Marinated Lobster with Avocado, Mango, and Hearts of Palm, Artichokes Bariguole with Sauce Skordalia; Autumn Vegetables with Hijiki Noodles and Crispy Miso Spring Roll, Sea Stock strutted under our nose and into our mouths and minds.

And then it happened.
The Truffled Red Wine Risotto with Parmesan Broth course made an appearance under cloak of heavy security. A two thousand dollar white truffle was first presented to us in a box and then brought out to be shaved over the plate (truffles were an additional cost of $18 per gram [we ordered one gram which is approximately three molecules of truffle]). Amid much pomp, the truffle plonked, as the waitress accidentally dropped the whole thing straight into the dish. Putting the apocalyptic, economic depression aside for the moment – Is this going to be a great year or what?!
Bruce Cormicle is an attorney, writer, and chef who works in Beverly Hills and recently started his own catering company called "You've Been Served".