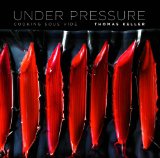 I don't know about you but I've got five extremely angry über chefs glaring at me from their cookbook bookflaps on my kitchen shelf and it's making me nervous: England's Heston Blumenthal's "The Big Fat Duck Cookbook", Thomas Keller's "Under Pressure", Grant Achatz's "Alinea
", and a couple of chefs from Spain – Ferran Adrià's "El Bulli Volumes 2003-2004", and Joan Roca's "Sous Vide". It sounded like a good idea at the time – assembling courtesy of Amazon.com the modern greats for a holiday feast using the latest sci-fi techniques of sous vide (cooking food in a vacuum packed pouch) – and then having at it.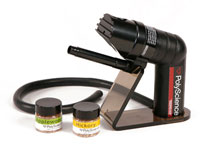 What these chefs failed to take into account – and the cause of their ire – was that I now see I don't possess any of the tools required to cook any of their recipes. They want to know why they are in my kitchen. I don't have a Polyscience Minipack-torre Model MVS31 Vacuum Sealer ($2025.00), a 8306C Model Thermal Circulating Bath ($1799.00), or even a functional spatula. I do have, however, from a previously deranged buying spree – The Smoking Gun™ ($79.00), which runs on 4 AA batteries and helps infuse dishes with a smoky flavor. An excellent Christmas present for your foodie friends. But I'm crushed to learn from their website that the gun is now being touted as "Excellent for finishing products that are cooked Sous Vide". Back to the beginning. I won't be dining in.