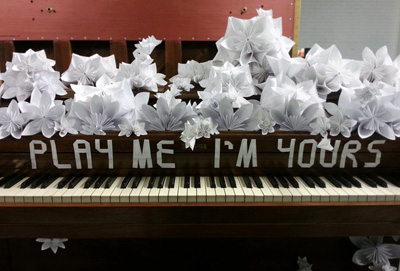 Things we like about Chinatown: it's close, you can park on the street and there's always adventure. This is one of those days: not only do we park but there's a piano on the sidewalk under the arch at the entrance. The Celebrity Series of Boston's placed 75 of them in Boston and Cambridge with an invite: "Play Me, I'm Yours." In 2006 there were cows everywhere and today it's pianos. No one's paying any attention so we toy with creating our own adventure like putting on a show: some song and dance maybe. Maybe not.
Where should we go? Oh, let's relive the '90s; to be clear, not my nineties and not Julie's either. She has stories about fun times at New Shanghai in the last century and you can never have too many stories when they're about someone else. So New Shanghai it is. Seems like old times with tales of old flames and late nights going way back to when this was the only gig after nine. That was Boston. (It used to be Faneuil Hall had two places and there was the No Name on the Fish Pier. We loved a Mexican bar in Cambridge beside the Orson Welles where someone stole the cash eight of us laid down to pay the check one night.) New Shanghai is still very good.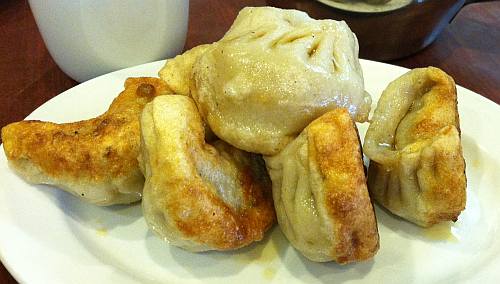 Just like that the table's set with placemats where you find what animal you are and learn more than you want about your perfect match. Depending on where you eat and the year you were born, it changes. Today's traits are less than appealing, making me feel bad. Enough, let's order and make it a favorite: Peking ravioli that come up promptly. Some of us take steamed and others fried but either way, we like them. Since we're going back to work, no drinks. Both of us think we made a mistake because I hear the ravioli calling to us, 'Where's your Tsingtao?'
Spinach dumplings are neatly crimped and steamed till they're burn-your-mouth hot. Not spicy but interesting and Julie thinks there's a touch of taro? I'm checking now and I ask Google: "What does taro" and Google knows the rest. So 'what does taro taste like' at Wiki.answers says: "Taro can absorb the flavor of almost anything it's cooked with." Okay, and "It tastes similar to buttered popcorn jellybeans." Really, who makes this stuff up? I check out recipes on chow.com and what we're tasting isn't garlic, carrot, ginger, tofu, or chives. Could it be cornstarch or baking soda? No, maybe it is taro.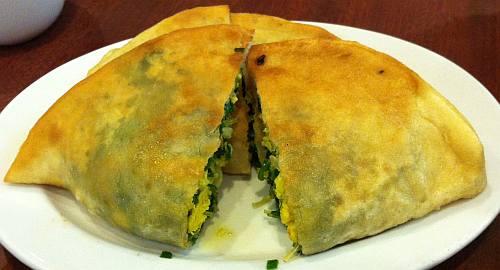 Leek cakes look like a turnover that's been cut in fours: green with an onion-y, egg-y filling that loves its casing. This is an ideal cocktail go-with and damn the no-wine lunch because this could sop up anything. Caterers love them and it's not like they drip and after you wouldn't need a speck of dinner. Julie decides to make them at home.
Bean curd with black mushrooms and bamboo shoots: Why is it sometimes called tofu and other times bean curd? Back to Wiki.answers: Depending on where you're from, tofu can refer to a softer style and if it's firmer or fried, the name is different. This dish blows us away with chunks of the smoothest bean curd this side of, I don't know, George Clooney? Really, all this over tofu.
New Shanghai bean curd with mushroom In 2008, Andy Chen, Frank Xing and Andy Xu became the new owners and they kept both cuisines, Beijing and Szechuan, that came before. They're still here because they're right here - it's Chen who's taking care of us today. We are inspired. Since one of us is going to try this at home, it calls for an adventure in shopping. We stop in to a local market. Among other things, I must have a bottle of sriracha from Huy Fong Foods. Huy Fong's having its own adventures in Irwindale, CA with chili sauce that's roasting the neighbors.
New Shanghai
21 Hudson St
Boston, MA 02111
617. 338. 6688
Photos by Julie Moffatt. Kitty Kaufman is a Boston writer. You can read more of their adventures at Corporate Edge: Let's eat already.