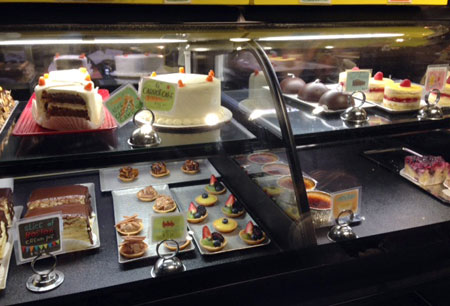 Flour Bakery's got everything, including things you didn't know you wanted from a bakery, like model sandwiches, classy salads, soup, pizza and quiche. There are, of course, things you expect to find like pecan rolls and cookies; cakes with carrot, fruit, chocolate and mousse; tarts with fruit and chocolate, gluten and nut-free meals, and pies. Today I see no cupcakes. You will not care.
Flour opens weekdays at 7 and goes through early dinner. Sometimes chefs work up front so you watch them assembling your lunch. If the counter's too tall, drooling on bakery cases is permitted but don't waste time because lines form quickly. If you insist, it's okay to eat dessert first and it turns out that Flour people think so too since it's their slogan: "make life sweeter . . . eat dessert first." We always see people who cannot wait and although we are not those people, we could be.
All four Flour's are noisy and fun: high ceilings, concrete floors left over from this Farnsworth Street's former incarnation, kids (those pb + j's and grilled cheese taste nothing like home), with a kitchen four times bigger than where you eat. Twenty people are waiting for their meal. This is how it works: Step up, give your order to a friendly server of which there are at least 10, go through the line which moves right and pay. Gather napkins, condiments and straws before they call your number. My friend Ed worked nearby and he said seats were hard to come by but it turns out today Kim and I get a table.
This is Kim's first visit and she's debating salads: quinoa and tofu or bean and mozzarella? No, it's chopped Greek with romaine, feta, olives, onions, tomato, lemon chicken, chickpeas, cucumbers, pickled banana peppers and lemony green goddess dressing. Owner Joanne Chang says eaters underestimate the magic of balancing bread and filling. We get it, salad too.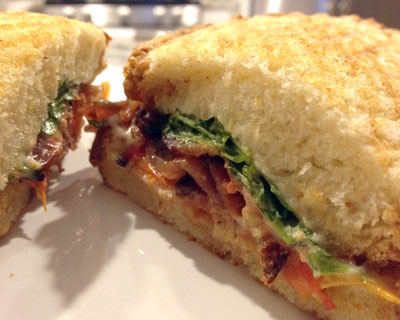 Flour lamb Has there been a better time to have a sandwich? Dilusha's favorite is roast lamb with chunky tomato chutney and salty goat cheese. Rare meat's thinly sliced and piled with peppery arugula and feta tucked into country bread. Just big enough so there's room for dessert. I wonder if Flour thinks about beer and wine? Lamb does love wine.
Flour BLT bomber Dilusha issues the usual "no BLT for you." But BLT it is because this is Boston's best with bacon to write home about. If you grew up in New York you ate your best BLTS in coffee shops. When they were too big, my mother and I would split one.
Here's the entire Flour BLT: Applewood smoked bacon, mayo, tomato, and arugula with a touch of vinaigrette on soft grilled toast. Chefs, enough with scatting on BLTs: they're perfect without nectarines, avocado, hard toast, crab cake and shrimp salad.
Turncoat, one day I had the portobello with pesto, mozzarella and tomato that's pressed into a gooey, green mouthful and it's splendid. Try turkey, tuna, chicken, roast beef, hummus and mozzarella variations all with great go-withs plus a breakfast sandwich done up with eggs, bacon and cheddar.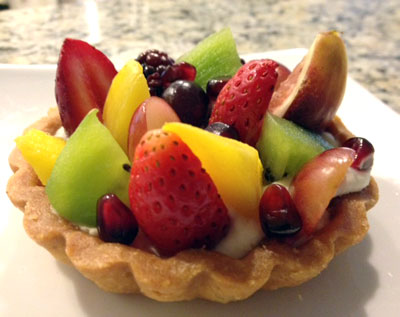 Flour almond Oh right, dessert. We had everything. Today, Kim goes for a macaroon cookie with a chewy almondy crispy outside. We see cookies for dogs along with people granola, apples, oranges, mugs, vegan, vegetarian, aprons and trail mix along with short bread, biscotti, coffee and shopping bags.
If you're too full, Flour people pack anything to go and it won't get squished. This fruit tart is one we took home and nothing fell out. They also make it as a one-biter. This baby traveled all the way from counter to table intact. I'm unboxing a pecan roll and tart as Dilusha reminds me she is a chocolate person. I've come from a bakery without a single square inch of chocolate. She forks into the tart as le bébé comes running from another room. Not only is it beautiful but the pastry and custard are buttery and creamy. We're surviving without chocolate. Next time I'll do better.
I'm nuts over the pecan roll that's been piled and toasted beyond expectation. My mother and I used to discuss what our ideal breakfast could be. It started with fried eggs, potatoes, bacon and steaming coffee ending with grilled pecan rolls. Then she'd reach up and pull out the corn flakes.
Flour Bakery
12 Farnsworth St.
Boston, MA 02210
617-338-4333
Locations in Cambridge, Back Bay and Washington Street in the South End © Photos by Dilusha De Tissera, Kim DeVito. Kitty Kaufman is a Boston writer. See more of their food adventures at Let's eat already