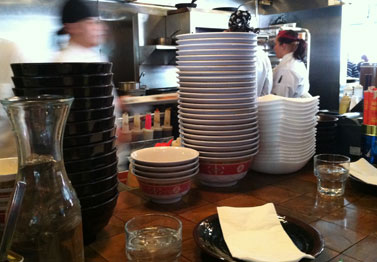 We're at the popular "funky indie diner with interpretations of Chinese, Taiwanese, Thai and Vietnamese specialties." It's Myers + Chang in Boston's South End, a place we've been wanting to try. Friendly help seat us at a sunny table overlooking Washington Street. It's cozy, evoking a nice diner, and we like the zippy tunes. The bar shows lots of sake and Asian teas.
I'm up for Chinese chicken salad which now makes all other salads with mayo ho-hum. Who doesn't love cashews, orange and crispy wontons piled high with citrus vinaigrette? It's nuo'c cha'm sauce with heat. Our wait person is pointing out which items are three star, meaning really hot. The health coach wants Thai chicken salad with lemongrass, mint, cilantro and rice noodles tossed in fish sauce and lime dressing. This one has toasted rice, nothing like breakfast cereal because it's very crunchy. Both salads carry one-star heat and they're just hot enough to be fun.
Another visit for weekend dim sum and we opt for the bar. Dandan noodles, slippery with spicy peanut sauce and tossed with pickles, play nice with everything. Fried tofu squares, crisp and low-heat, come with fiery garlic aioli. Peppery Brussels sprouts steal our hearts and we agree charred bok choy in ginger is a keeper. Tightly wound rice paper rolls are a good counterpart to everything hot and spicy. It's heat we can live with although there is some discussion about calling the fire department.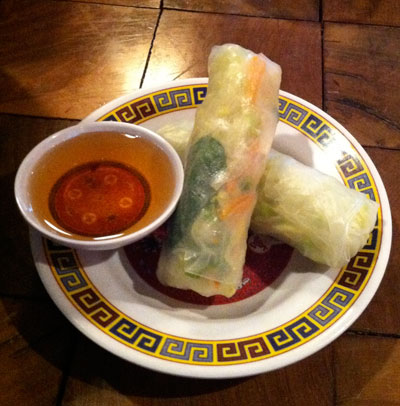 Dim sum starts with Asian pickles and sweet potato chips. There's green papaya slaw, fried egg bánh mì, two-star crisp calamari, and three-star spicy tofu. Small bites: chicken congee, chicken wings, carrot ginger soup, egg custard with mushrooms, fried eggs with genmai (brown rice), nasi goreng (fried rice) and spring rolls.
Dumplings come with edamame and mustard greens, shrimp or Mama Chang's pork (it's sad I didn't see this until now).
On the way out the manager stops us since we're the only ones taking pictures. He says independent, locally-owned shops are choice after you've "trained" in a chain setting.
I remember back when owner Joanne Chang-Myers met Chris Myers as a Harvard-educated pastry chef at his restaurant Rialto. She recently opened her fourth Flour bakery in Back Bay. Her latest book Flour, Too follows 2010's Flour with recipes for "easy at-home eating."
Myers + Chang
1145 Washington St (South End)
Boston MA 02118
(617) 542-5200
Kitty Kaufman is a Boston writer at http://www.corp-edge.com.