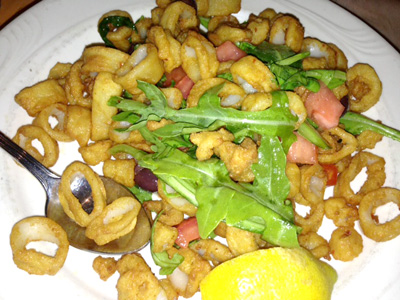 The purist, obsessed with the quest for ethereal calamari, gets a new variation peppered with arugula, Kalamata olives and tomatoes in lemon vinaigrette all of which, I'm suprised to say, works. It's an appetizer, it's huge, there's half left and there's no way I'll be eating a single thing more.
I suspect chefs weep as they watch their creations being boxed to go; it never looks the same after, I know. This one travels well and toasts up great the next night. It is smooshed but really, who cares? With new arugula and sliced tomato, it's a take-home stash I wouldn't dream of calling leftovers.
Romaine salad has a kind of do-it-yourself edge: there's lettuce, chunky croutons and Parmesan that you get to chop and toss with mellow dressing. At the end, I'd like to say we tried dessert: the death by chocolate, cheesecake, crème brûlée, Boston cream pie and the banana split but we can't. It's opening season for tap and we gotta fit into our shoes.
224 Restaurant
224 Boston Street
Dorchester, MA 02125
617. 265. 1217
© September 11, 2013 - Kitty Kaufman is a Boston writer. See more of her food adventures at Corporate Edge: Let's Eat Already. Photos by Kim DeVito.