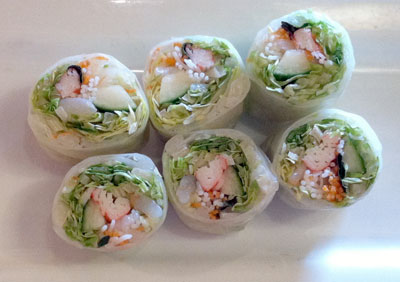 We order an all green lunch except for, you know, the wine and the sake maki. The wine's a Columbia Valley Pacific Rim Riesling, dry and crisp, just what we want with greens and ginger. Overall, it's hard to single out what was our favorite but right now we're saying the Popeye roll: spinach, carrot and cucumber never had it so good. Our server says most people miss it completely. Don't.
Sake maki is our canary for Asian cuisine. It's lovely with chopstick dueling over who gets the last piece. Next, fresh spring rolls or as I call them: summer, fall, winter, spring rolls, not fried, rolled right from the tree with ice cold lettuce, crab and cucumber with plum sauce. Sweet trumps salty on this one but any sauce will work depending on what you're drinking.
Vegetable dumplings, what can you say that hasn't been said before? For one, these are shaped like doughnuts with greens popping out and they've been steamed, not fried. We about overdose on them and their sauce; traditional soy with vinegar and scallions is the one you need. They're big enough to cut in half which makes them last longer and who's going to argue with that?
Finally, tempura. Just when you think you might be greened out, you're not. Slices of sweet potato and carrot, cucumber and squash don't need a thing but if you must, the dumpling sauce. The batter's light and it's all hot and crispy. We split everything including a giant onion ring. Would it be tacky to ask for another? I think yes. Are you sure? I'm sure.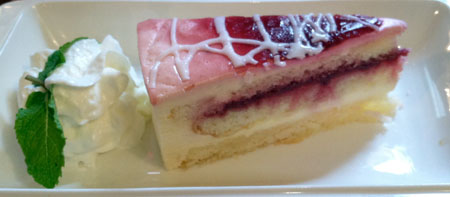 It's not bad enough we have no leftovers, as in there's absolutely nothing left. We're looking for something else. Dessert! It's a tough decision but this is it: limoncello-soaked pound cake with raspberry and whipped cream. It's light but we won't be if we eat more. It doesn't have a lick of chocolate but we manage to force it down. We need the recipe for this. No, we don't. Who are we kidding?
There's no way we're turning on the oven today. Good thought though. Oh, Sundays from 5-9:30 just the maki rolls are half off in the store. They'll hit the spot at the four-seat sushi or the four-seat wine bar with sangria by the glass. As the man says: eat at Jae's, live forever.
Jae's
520 Columbus Avenue (South End)
Boston, MA 02118
617. 421. 9405

© August 22, 2013 for One for the Table - - Photos by Julie Moffatt. Kitty Kaufman is a Boston writer. See more of their food adventures at Corporate Edge: Let's eat already