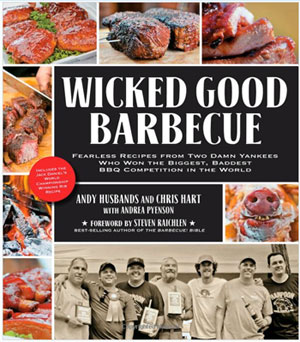 I love barbecue. I know I am not alone. I wish my husband was a grill master, but alas that is not where his talents or inclinations lie. Our recently purchased smoker has only been used two or three times with a modicum of success. He was merely teasing me. He has no culinary aspirations and was drawn in because it's a gadget. He can't resist gadgets. I think he thought it would be easier to operate and, on a basic level, smoking food is fairly simple. However, to get great flavors one has to put in the time and a bit of effort and that's something he just didn't count on. Plus the recipes that came with our unit were pretty uninspiring and not as detailed as was necessary for people new to the ways of smoking food. So, his excitement quickly waned.
So when I came across the book Wicked Good Barbecue
, written by two chefs from Boston - Andy Husbands and Chris Hart - who've won hundreds of barbecue ribbons across the country as well as the Jack Daniel's World Championship, I thought that maybe there was hope for us. (I'm from MA and love that the book is written by two New England dudes.) That using these recipes we could turn our backyard into a heaven of smoky, meaty goodness. Alas, that is not meant to be. This book is serious. This book is meant for those with a fire in their belly to create great dishes that will impress their friends and smells that will torture their neighbors. If your man thinks he's the best griller in the world, this book will help him prove it. Or at the very least, help him step up his game.
Wicked Good Barbecue delivers their award-winning takes on brisket, chicken (it has 25-steps), ribs and everything else you could ever want on your summertime picnic table. Even things I didn't think could be put in a smoker, like pound cake, are included. The problem is these recipes aren't' simple. They have been developed over years of their participating in world-class competitions in some of the toughest BBQ locales in the country. These guys have passion. They not only wanted to make the best, they showed the world that southerners aren't' the only ones who know how to work a grill.
The good news for those of you not afraid of recipes with multiple steps and processes that may need to happen over several days and perhaps a sleepless night, they've taken all the guesswork out of it for you. They are not screwing around don't compromise an inch for beginners. Quality barbecue takes time and a whole lot of love. If you want the best you clearly have to have a ton of patience and drive. Not our strong suit. However, once you see the countless details and all the tips and tricks they share, you know something pretty damn amazing is going to be hitting your table.
Most people aren't fans of lamb, but I choose it over steak 95% of time. Now if only I can convince my husband to make the following recipe. I know it will be good and isn't overly complicated. Perhaps it will even spark his culinary fire. A meat-loving girl can dream.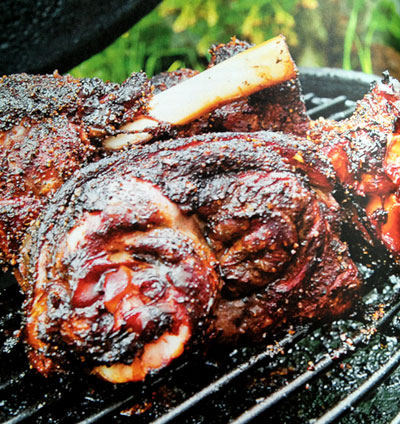 Tender Kentucky-Style Lamb Shanks with Tangy Mutton Dip
Farmworkers, slaves and cowboys on the trail were often left with throwaway meats - gnarly, tough-to-cool cuts like the shoulder, short ribs, or shank that the farm owners had no interest in. Often, these cuts were spoiled (thus the invention of vinegar-based sauces or "dips" to cover up off-flavors). It was discovered, though, that slowly roasting these meats by a campfire produced something magical. We'll take the shoulder over the tenderloin any day!
We look to Kentucky and the local tradition of cooking whole mutton for our inspiration in this dish. Mutton is mature lamb - what most of us know as sheep. And it's a perfect example of using the barbecue method to transform a tough, gamey, generally undesirable protein into something extraordinary. We like to use lamb shank, but you could substitute lamb shoulder or even a piece of mutton shoulder if you can find it.
6 lamb shanks, about 12 ounces each
1/4 cup kosher salt
1/4 cup coarsely ground black pepper
1 tablespoon garlic powder
1 tablespoon onion powder
2 teaspoons cayenne pepper
2 cups Tangy Mutton Dip (recipe follows)
12 ounces American lager
On a large cutting board, trim excess fat and silver skin off shanks. Transfer to a platter or sheet pan and set aside.
Mix salt, pepper, garlic powder, onion powder and cayenne together in a small bowl. Sprinkle over lamb shanks, cover, and refrigerate for 1 hour.
While shanks are in the refrigerator, prepare smoker and bring temperature to 250 degreesF (121C). We recommend an assertive wood, like oak or hickory, for these babies. Remove the shanks from the refrigerator and smoke for 2 hours.
Transfer the shanks to a disposable aluminum pan and pour 1 cup mutton dip and the beer over the meat. Cover pan tightly with foil and cook on the smoker for 1 to 2 hours, or until meat is meltingly tender. To test, pick up a shank with a fork. If the meat pulls away from the bone, congratulations! You have meltingly tender lamb.
To serve, strategically place a bowl of the remaining 1 cup mutton dip (which you have warmed) near a platter of the shanks. Encourage your guests to pull the meat from the bones with their hands and dip into the flavorful mutton dip. Do you think farmworkers or cowboys worried about silverware or napkins?
YIELD: 6 servings
Tangy Mutton Dip
1 cup water
1 cup Worcestershire sauce
1/2 cup packed brown sugar
1/4 yellow mustard
1 tablespoon onion powder
1 tablespoon garlic powder
2 teaspoons chipotle hot sauce
Kosher salt and freshly cracked black pepper, to taste
In a small saucepan over medium heat, bring all ingredients to a light boil. Reduce heat to low and simmer for 30 minutes. Remove from heat and cool. Serve with Tender Kentucky-Style Lamb Shanks. YIELD: 2 cups
Excerpted from Wicked Good Barbecue: Fearless Recipes from Two Damn Yankees Who Have Won the Biggest, Baddest BBQ Competition in the World
© Copyright 2012 by Andy Husbands, Chris Hart and Andrea Pyenson. Reprinted with permission by Fair Winds Press. All rights reserved