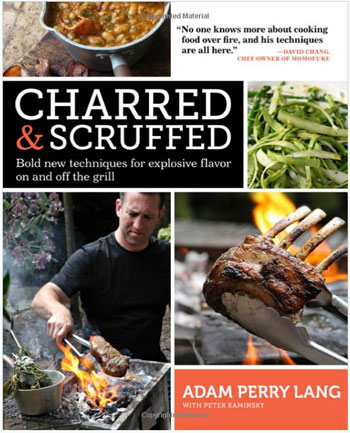 We couldn't start barbecue season without including a recipe from our favorite grill master Adam Perry Lang. Following is an excerpt and recipe from his latest book. If you're serious about grilling or, in this case, smoking, you better get one or all of his books stat. - The Editors.

I have always love barbecue. While I can't claim that my grandpa was a great pit master, I can say that in my case encountering the deep savory smokiness of barbecued meat was love at first whiff. I came to understand that wood fire, seasoning, and smoke combine in a form of culinary alchemy that - in all its strongly defended regional variations - makes up the great tradition of American barbecue. What I have tried to do in my cooking, and in Charred & Scruffed, is to apply the lessons of classic cuisine to the folkways of barbecue.
Along the way, I read a lot of barbecue cookbooks, but after the first half dozen or so, what was striking to me was how similar they are. You're sure to find falling-off-the-bone ribs, mahogany-hued briskets, manly (i.e. really huge) cuts of steak, and succulent smoked pork shoulders that taste like the distilled essence of Old Dixie. But upon closer reading, and tasting, you may also find that the meat, which is often the most expensive ingredient in the recipe, is relegated to second fiddle for bastes, sauces, spice rubs, and, for good measure, some hot sauce and vinegar at the end.
My aim is to construct a more powerful taste narrative. I always strive to have different layers of flavor and texture come through, one after the other, so that each bite is a story with a beginning , middle, and end. ANd, when the story is told, what should stay with you is the quality of the prime ingredient…the meat. Remember this: meat the the master. Sauce, seasoning, and smoke are its faithful servants.
Smoked Pork Shoulder with Lime Coriander Salt
Serves 8 -12
For many Americans, especially those from the Deep South, "barbecue" is primarily a noun, often shortened to one syllable: "cue" - a term of affection that most often refers to pulled pork. While "cue" can mean the shredded meat of a whole hog, for most home barbecuers, and quite a few restaurants, it means the long-smoked meat of the port shoulder.
When it is prepared carefully, the shoulder goes through a remarkable transformation and the naturally tough meat becomes meltingly tender.
Pulled pork is a hearty dish, usually served on a bun with lots of strong sauce and maybe a dollop of coleslaw. My version is as unctuous as any you will find at a church supper or summer picnic, but the flavors I add brighten and lighten the dish, accenting the savoriness of good pork.
If you can find it, I strongly advise buying meat from a free-range animal, such as Niman Ranch pork, or the equivalent from your local farmers' market or other trusted source. It has real flavor that sauces and seasonings should enhance, not obscure.
Ingredients:
One 7-to-8-pound bone-in pork butt
Basic Brine (see below)
1/4 cup Four Seasons Blend (see below)
Classic Southern Baste (see below)
Bunch of Fresh herbs (Rosemary, Sage and / or Thyme)
Lime Coriander Salt for finishing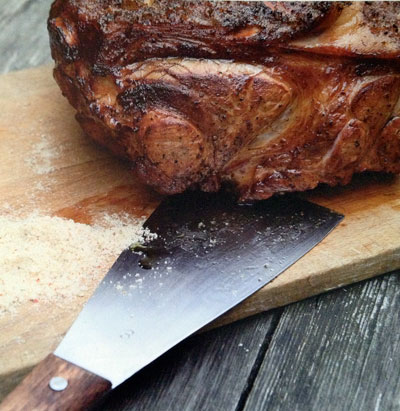 Instructions:
Rather than using an ordinary basting brush, I prefer to make my own by securing a bunch of herbs springs to a dowel, the handle of a long wooden spoon, or a long-handled carving fork. The herb brush flavors the baste and releases oils into the crust as it builds. Plus it looks really cool.
Put the pork in a large bowl or other container and add the brine. Cover and refrigerate for 24 hours.
Preheat a smoker to 275°F.
Remove the pork from the brine (discard the brine) and, while it is still moist, season it all over with the seasoning blend, working it in with your hands.
Put the pork fat side up on the smoker grate and smoke for 2 hours. Transfer half the baste to a bowl and set aside for finishing.
Baste the pork, using the herb brush, and continue to smoke, basting every hour, until the internal temperature registers 195°F on an instant-read thermometer, about 6 hours longer.
Transfer the cooked shoulder to a bowl, cover tightly with plastic wrap, and allow to rest for 30 minutes.
To serve, using two forks, pull the pork into chunks. Toss with the reserved baste and finish with a sprinkling of the lime coriander salt.
Basic Brine
8 cups water
1/4 cup sea or kosher salt
2 tablespoons granulated sugar
2 lemons, cut in half
3 bay leaves, preferably fresh
8 garlic gloves, crushed and peeled
2 tablespoons fresh thyme leaves
1 tablespoon black peppercorn
1 teaspoon red pepper flakes
Combine all the ingredients in a large saucepan and bring to a boil over high heat. Transfer to a bowl or other container and allow to cool, then refrigerate overnight before using.

Four Season Blend
1 cup sea or kosher salt
2 tablespoons freshly ground black pepper
2 tablespoons garlic salt
1 teaspoon cayenne pepper
Combine the salt, black pepper, garlic salt and cayenne in a small bowl. Transfer to a spice grinder or clean coffee grinder and pulse to the consistency of sand. Store in an airtight container for up to 1 month. Makes 1 cup.

Classic Southern Baste
Makes about 3 cups
1 1/4 cups extra virgin olive oil
10 tablespoons (1 1/4 sticks) unsalted butter
1/2 cup of rendered fat from the meat being cooked (optional)
1 teaspoon soy sauce
1 teaspoon Worcestershire sauce
1 tablespoon dark brown sugar
2 tablespoons grated garlic or garlic mashed to a paste
1 tablespoon fresh thyme leaves
2 tablespoons grated Spanish onion (use a Microplane)
2 teaspoons sea or kosher salt
2 tablespoons freshly ground black pepper
1 teaspoon red pepper flakes
Acid Components:
1/2 cup cider vinegar
1 tablespoon ketchup
1 tablespoon yellow mustard
Combine all the ingredients in a 2-quart saucepan and bring just to a simmer; remove from the heat. For the best flavor, refrigerate in a tightly sealed container for 1-2 days (reheat over low heat to melt the butter before using).
Whisk the cider vinegar, ketchup and mustard into the baste before using.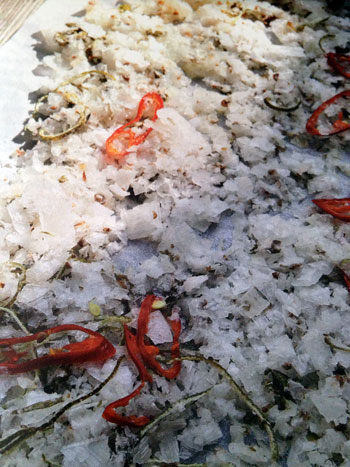 Lime Coriander Salt
Makes about 1 cup
1 cup sea or kosher salt
1 tablespoon grated lime zest
1/3 cup freshly squeezed lime juice
1 tablespoon ground coriander seeds
1 tablespoon julienned chile peppers
Combine the salt, zest, and juice in a bowl, stirring until slushy.
Spread the salt mixture out in a thin, even layer on a parchment-lined dehydrator tray and dry in a dehydrator at 105°F for 12 hours. Alternately, spread the mixture on a parchment-lined baking sheet, put in a convection oven set at the lowest setting, prop the door ajar with the handle of a wooden spoon, and let dry completely, about 12 hours.
Finely grind in a spice grinder or clean coffee grinder and dry for another 2 hours.
Transfer the salt mixture back to the grinder, add the ground coriander, and pulse to the consistency of sand. Mix in the chiles. Store in an airtight container at room temperature for up to 1 month.
Excerpt, photos and recipes reprinted with permission by Adam Perry Lang. Charred & Scruffed. Copyright ©2012. All rights reserved. Photos copyrighted by Simon Wheeler. Published by Artisan, a division of Workman Publishing Company, Inc.