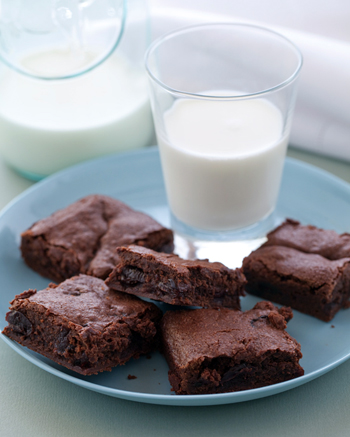 Oh.
No, really, oh. Oh as in "Oh my, these brownies" and "Oh damn, these brownies." Oh as "Oh I can't believe this recipe is so amazing" and "Oh there goes any bit of self control I had."
Get the picture?
You can roll your eyes a bit when you say "Oh". It helps.
Even though I don't claim to have the world's largest sweet tooth and go for salty over sweet most days, I can't help but claim this brownie recipe as one of the best I've ever tasted. Because to me, brownies seem like the perfect treat in theory. Chocolately, studded with fun things like nuts or fruit, small and compact and enough to satisfy thanks to their rich nature. But sometimes, well, you can't help but feel let down sometimes when you bite into a brownie that's dry, too moist or not moist enough, tastes like a mix or worse, doesn't resemble a brownie at all.
None of those annoying things happen with this recipe. And I want to give Alice Medrich one big giant hug next time I see her.
This recipe requires some very specific steps when making it. You must follow them, there's no two ways about it. You must use a metal pan to make them, not glass or pyrex. Why? Because the entire pan goes into an ice bath for cooling after baking. Now, I'm no scientist and I haven't asked Alice how or why this works, but I'm thinking it affects the texture of the brownie, giving them an absolutely perfect chewy exterior with the dreamy perfect inside you want in a brownie. And these brownies are indeed very chocolatey and fudgelike, but again, the outside is firm and just on the brink of being solid and cracklely. Is that a word? Crackley? Crackly? Crackle-ee? Editors and writers, speak up while I go and bake another batch!
Alice Medrich's New Classic Brownies
This recipe comes from her 1999 book Cookies and Brownies
. Yes, read the recipe from beginning to end before making it. You must. And while chopped nuts are optional, I've added dried tart Montmorency cherries to the last batch we made with much success. The tart cherries punctuated the rich chocolate flavor well, and since I became addicted to them after last summer's trip to Traverse City, Michigan and purchased 10 lbs of them, well, you see where I'm going with this.
Ingredients
1 stick of butter (8 tablespoons)
4 ounces unsweetened chocolate (I used Scharffen Berger's 99% Cacao)
1 ¼ cups sugar
1 teaspoon vanilla (shameless plug: Spice Islands Vanilla, please!)
¼ teaspoon salt
½ cup flour
2/3 cup chopped nuts like toasted walnuts or pecans or dried tart cherries
2 eggs
Method
Preheat your oven to 400˚F. Grab an 8-inch square metal baking pan. I repeat, grab an 8-inch square metal baking pan. No glass nor pyrex as it could crack when you get to the ice bath stage.
Line the metal baking pan with foil or parchment so that it comes up all four sides.
Melt the butter together with the chocolate in a double boiler or in a bowl placed above simmering water, not boiling water. Stir to mix, you want it smoooooooth.
With a spatula or wooden spoon, mix in the sugar, vanilla and salt. Add the eggs one at a time and then mix in the flour. Stir the mixture for 1 minute, until smooth. You'll know it's ready when it begins to come away from the sides of the bowl.
Add the nuts or dried fruit next, right before placing in the pan to bake. Bake for 20-25 minutes or until the edges pull away from the pan.
While the brownies are in the oven, prepare the ice bath by using a large roasting or baking pan, larger than the 8-inch square baking pan that the brownies are in. Fill this large pan with ice cubes and cold water. Once the brownies have baked and are removed from the oven, place them into the ice bath but be careful not to splash any water onto the brownies. You don't want that to happen. Let them cool in the ice bath and then remove and cut into 16 squares. Prepare to say "Oh!"
-- Also published on MattBites.com