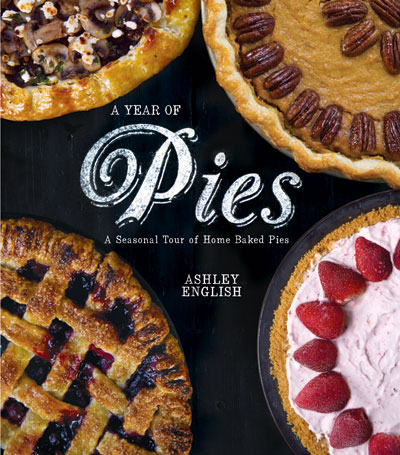 When I received a review copy of A Year of Pies: A Seasonal Tour of Home Baked Pies
by Ashley English, my first thought was: Did they send it to the wrong person?
You see, the only pie I truly enjoy making is a spinach pie — no deciding between shortening or butter, no fluting of the edges, no waiting until it's no longer jiggly in the center.
Traditional pies, in contrast, are high maintenance. I can make pie (under duress or after my husband guilts me into making one), but I don't enjoy it. With her new cookbook, English may just convert me into someone who likes to bake pies.
English offers 60 seasonal, home-crafted recipes for all types of pie: sweet, savory, double-crust, single-crust, hand-held, galettes, tarts, and more. Winter pies include festive Minty Chocolate Cream Pie and soul-warming Spiced Meat Pie. Spring ushers in fresh Strawberry Crumble Pie with Lemon Verbena Whipped Cream and elegant Asparagus and Dill Quiche. Summer samples include Classic Blueberry Pie along with newcomer, Nectarine and Lavender Crostata. Autumn (my personal favorite) has heart-warming Gingersnap Pumpkin Pie with Candied Pumpkin Seeds, hearty Roasted Butternut Squash, Cheddar, and Sage Galette, and a positively charming Figgy Pudding Pie.
Each recipe is prefaced with a short introduction and most are accompanied by a beautiful colored photograph by Lark Crafts. Recipes are detailed, so even a novice baker can feel confident. Perhaps the most important part of the book is the introduction. English tells you which tools to buy (be warned: you can fill an entire kitchen drawer with them), the differences between glass, ceramic, and metal pie pans, and the best baking ingredients to have on hand.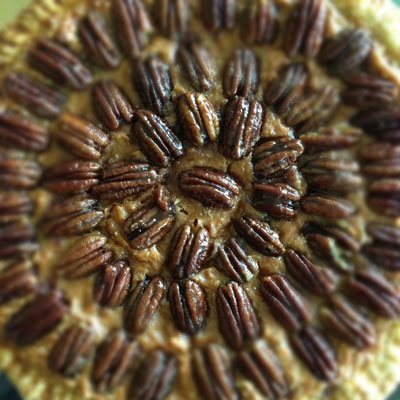 Since English believes that "every great pie begins with a great crust," she offers readers basic pie dough recipes in two versions: shortening-and-butter and all-butter. She also offers novelty crusts such as Chocolate Cookie Crust and Graham Cracker Crust. The best part: you don't need an expensive Kitchen-Aid mixer. English uses a pastry blender or two forks. So, if she does it, you can too.
Aware that many people are intimated by making pie crust, English reassures them with helpful tips including "be sure fats are nice and cold" and "after rolling the dough out, return it to the refrigerator to chill while you make your filling." If that isn't enough, she even includes a "Crust Troubleshooting" section with numerous tips.
Full-color step-by-step photos show you how to mix the dough, blind-bake it, create a lattice-top, and make decorative piecrust edges.
Whether you're a pie-making enthusiast (I've heard some people are, though I'm skeptical) or a one-time-a-year pie maker (like me), Ashley English's A Year of Pies will inspire you to get rolling in the kitchen.
Bourbon Rosemary Sweet Potato Pie, recipe from A Year of Pies.
I made this pie for Thanksgiving and was tickled with how perfect it came out. "Perfect" and "pie" aren't two words I normally use together. My family gushed. Actually gushed. I may have to build a shrine in honor of Ashley English.
You Will Need:
9-inch pie pan
1/2 recipe Basic Pie Dough (below)
Basic Pie Dough:
(shortening + butter version)
You Will Need:
2 1/2 cups all-purpose flour
1 1/4 teaspoons sea salt
6 tablespoons (3/4 stick) unsalted butter, chilled and cubed
3/4 cup vegetable shortening, chilled and cubed
3/4 cup ice water
Mix the flour and salt together in a medium bowl. Using a pastry blender or two forks, cut in the butter and shortening until the mixture resembles coarse meal (you should still have some rather large bits of butter and shortening when you're done).
Transfer dough to a floured work surface, and using your hands, fold it into itself until the flour is fully incorporated into the fats. The dough should come together easily but should not feel overly sticky. Divide the dough in half, shape it into two balls, and pat each ball into a 1/2-inch thick disc. Wrap each in plastic wrap and refrigerate for at least an hour. Proceed according to the pie recipe instructions.
Pecan Topping:
2 tablespoons unsalted butter
1 cup pecan halves
1/4 cup maple syrup
1 tablespoon bourbon
1 teaspoon sea salt
Filling:
3 pounds sweet potatoes
4 large eggs, separated
1 cup heavy cream
4 tablespoons (half stick) unsalted butter, cubed
1/2 cup bourbon
1/4 cup maple syrup
1/4 cup packed light brown sugar
2 tablespoons finely chopped fresh rosemary
1 teaspoon salt
1/2 teaspoon ground allspice
1/2 teaspoon ground cinnamon
1/2 teaspoon ground nutmeg
Egg Wash:
1 large egg yolk
1 tablespoon cold water
Preheat oven to 400 degrees F. Prepare the crust. Roll out the dough on a lightly floured surface and fit it into the 9-inch pie pan. Trim the crust overhand to 1-inch and crimp the edges decoratively. Place the crust in the refrigerator while you prepare the topping and filling.
Prepare the Pecan Topping:
Melt the butter in a medium saucepan over medium heat. Add the pecans, maple syrup, bourbon, and salt and cook, stirring occasionally, 4 to 5 minutes, until the mixture is thick and gooey. Remove from heat and set aside to cool.
Prepare the Sweet Potatoes:
Prick the potatoes 3 or 4 times a piece with the tines of a fork. Line a rimmed baking sheet with parchment paper. Place the potatoes on the sheet and bake for 1 hour. Remove potatoes from oven, leaving the oven on, and reducing the temperature to 350 degrees F. Let the potatoes stand 10 to 15 minutes, until cool enough to handle. Peel off the skins and put the flesh in a large bowl. Mash with a potato masher until softened and smooth.
Prepare the Rest of the Filling:
Using an electric mixer or whisk, beat egg whites in a medium-size bowl until billowy peaks form. Set aside. Add the heavy cream cream and butter to the bowl containing the mashed sweet potatoes. Whisk until the butter melts and the cream is well incorporated, then whisk in the egg yolks until fully combined.
Place the bourbon in a medium saucepan. Bring to a boil over high heat and boil vigorously for 1 to 2 minutes, then stir in the maple syrup and brown sugar. Boil 2 to 3 minutes longer, until the brown sugar melts. Remove from the heat and pour into the potato mixture. Whisk until well combined. Add rosemary, salt, allspice, cinnamon, and nutmeg and whisk to blend thoroughly. Add the beaten egg whites to the potato mixture. Fold in gently with a spatula until fully incorporated.
Assemble the Pie:
Pour the filling into the chilled crust, using the spatula to distribute it evenly. Arrange the candied pecans decoratively over the filling in a pattern that you like. Whisk egg yolk and water in a small bowl. Use a pastry brush to brush the wash over the edges of the crust.
Bake in the 350 degree F oven for 1 hour, until the filling is set and doesn't jiggle when the pie pan is gently shaken. Cool 50 to 60 minutes before serving so the pie has time to firm throughout.
A Year of Pies, Lark Crafts/Sterling Publishing Co., ISBN 978-1-4547-0286-3 August 2012, 176 pages, $19.95
Susan Russo is a free lance food writer in San Diego, California. She publishes stories, recipes, and photos on her cooking blog, <Food Blogga and is a regular contributor to NPR's <Kitchen Window. She is also the author of Recipes Every Man Should Know
and The Encyclopedia of Sandwiches
.