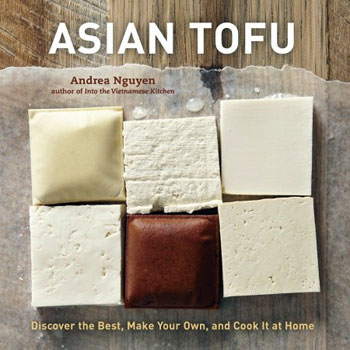 "Despite all the terrible terms that have been attached to tofu, it is still considered a good four-letter word by countless people. " That's how Andrea Nguyen begins her latest cookbook, Asian Tofu: Discover the Best, Make Your Own, and Cook It at Home
I share Nguyen's feelings about tofu. It's an unjustly maligned food. I've encountered numerous people who say they hate tofu even when they've never eaten it. Why the tofu antipathy? I blame Tofurky and other soy "meats" for defaming tofu's reputation. Proteins should know their place: bacon should be bacon, sausage should be sausage, and tofu should be tofu.
Andrea Nguyen understands this, which is why she has dedicated an entire book to this ancient Asian staple. Nguyen, a respected writer and teacher, deliciously demonstrates her knowledge of and love for tofu. She tells the history of tofu —which was created during the Han Dynasty (201 BCE- 220CE) — includes a Homemade Tofu Tutorial for do-it-yourself-ers, and offers nearly 100 tempting recipes from soups to desserts.
If you think tofu is simply that white block of soy you find in the refrigerator section of your supermarket, then you're in for a surprise.
Nguyen clearly explains how different tofu types are made, cooked, and eaten. You may already have known that "block tofu" comes in soft, medium, firm, extra-firm, and super-firm textures. Did you know, however, that you can buy slurp-able tofu noodles that are cut from pressed tofu? Or that you can make tofu skin —it's the film that forms on top of soy milk when it's heated in a pot. Nguyen claims, "Freshly made tofu skin is worth savoring at least once in every tofu lover's lifetime." (I'm not sure I'll take her up on this one.)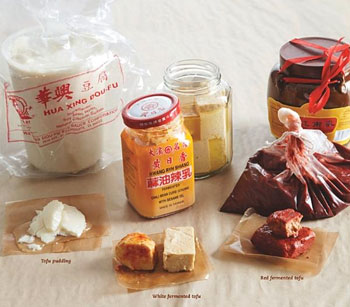 But I will take her up on her Spicy Lemongrass Tofu Salad, Foxy Tofu Noodle Soup (made with Dashi stock), and Spicy-Sweet Fried Tofu Buns, to name a few.
Tofu enthusiasts will quickly recognize cherished classics such as Hot-and-Sour Soup, Deep-Fried Tofu, and Miso-Glazed Broiled Tofu. They'll also be intrigued by more unusual recipes such as Sushi Rice in Tofu Pouches, Tea-Smoked Tofu with Pepper and Pork, and Fermented Tofu, Lemongrass, and Goat Skewers. There's also (thankfully) a chapter of tempting tofu desserts including Tofu Tiramisu and Cashew and Cardamom Fudge that will convert even the most tofu-averse.
Nguyen introduces each recipe with a personal or historical anecdote written in a conversational tone and peppers the book with many helpful tips and notes. Maren Caruso's color photography is lovely.
Whether you're a tofu skeptic or a tofu evangelist, you'll find Andrea Nguyen's Asian Tofu an irresistible kitchen companion.
Susan Russo is a free lance food writer in San Diego, California. She publishes stories, recipes, and photos on her cooking blog, <Food Blogga and is a regular contributor to NPR's <Kitchen Window. She is also the author of Recipes Every Man Should Know
and The Encyclopedia of Sandwiches
.