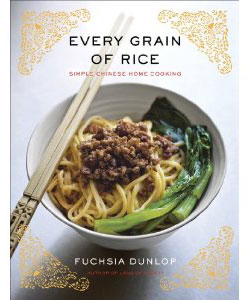 I love Chinese food but I rarely make it at home. I have a few favorite recipes, but I am definitely interested in trying more so I was thrilled to see Fuchsia Dunlop's latest cookbook, Every Grain of Rice
which focuses on simple Chinese home cooking. I like the book, my only complaint is that sometimes more explanation of certain ingredients would be helpful; for example in my local Chinese markets I can find lots of different noodles, but some of the recipes just say "wheat noodles" or when I see an ingredient like celery I wonder, should I use conventional celery or Chinese celery?
I made a dish I adore and which is featured on the cover, Dan Dan noodles. While I have certain ingredients like both dark and light soy sauce, Chinkiang vinegar and Shaoxing wine in order to make this particular dish I went ahead and purchased some sweet fermented sauce and embarked on a search for find ya cai. Ok, this is where is gets complicated. I searched high and low at every Chinese grocery store I could find and there was no ya cai, a kind of preserved mustard green. In fact one store told me they hadn't carried it in a long time despite requests from restaurants. I did find lots of other preserved vegetables and Tianjin preserved vegetable another kind of salt pickled cabbage with garlic which I used instead. It's a delicious savory vegetable that adds a really nice texture to dishes and is fairly easy to find.
I adapted the recipe just a tiny bit, I didn't think the oil was necessary for frying the ground pork because it is so fatty anyway and of course, I had to substitute Tianjin for ya cai. I am going to keep looking for ya cai, but I am very happy to have discovered preserved vegetables and now that I have purchased several kinds I will be experimenting with them. They are inexpensive, come in many different varieties like turnip and cabbage and mustard green stems, and if you like salty picky flavors they are very appealing!
Note: if you can find ya cai by all means use it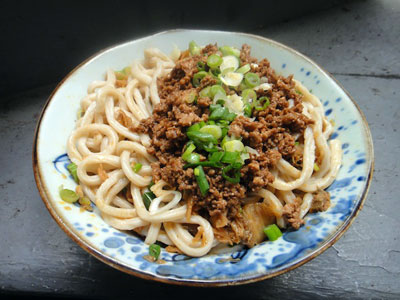 Dan Dan Noodles adapted from Fuchsia Dunlop
Makes 2 large servings
1/4 lb ground pork (I used fatty not lean)
2 teaspoons Shaoxing wine
1 teaspoon sweet fermented sauce (also called sweet bean sauce)
1 teaspoon light soy sauce
11 ounces fresh wheat noodles, medium thickness (not the very thin or wide ones)
3/4 cup chicken broth
2 teaspoons light soy sauce
1 teaspoon Chianking vinegar (also called black rice vinegar)
3 Tablespoons chili oil or to taste
5 Tablespoons Tianjin preserved vegetables (Tianjin is often available in a squat brown ceramic pot)
1/4 cup sliced green onions, divided
Heat a wok or large non-stick skillet over medium heat. Add the meat and cook, stirring to break it up. When the meat is cooked, add the Shaoxing wine and the sweet fermented sauce and stir to combine. Cook until fragrant, but still juicy. Remove from the heat and set aside.
Heat the chicken broth in a pan or microwave, then add to a large serving bowl. To the broth add the soy sauce, Chianking vinegar, chili oil, the Tianjin preserved vegetables and 3/4 of the green onions.
Cook the noodles then rinse and drain. Toss the noodles with the sauce and top with the meat mixture and the reserved green onions.
Enjoy!
Amy Sherman is a San Francisco–based writer, recipe developer, restaurant reviewer and all around culinary enthusiast. She blogs for Epicurious , Bay Area Bites and Cooking with Amy .