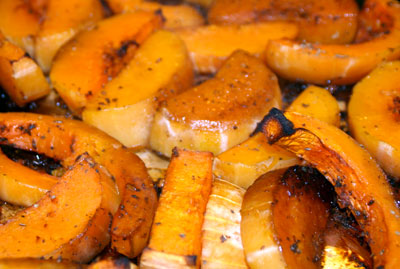 Another workhorse of a vegetable, Butternut Squash is always on my shopping list and in my inventory during the fall and winter months.
Sometimes it's tucked into a curry, sometimes it's a soup or pureed but, most of the time, it's simply roasted with cayenne, cinnamon and salt and then drizzled with sugar free maple syrup (which has just 20 calories instead of 200!)
It's not only a delicious side dish with dinner, it's a satisfying snack to take on the run, or a great way to top a spinach, walnut and cranberry salad the next day. Believe it or not, I even have it for breakfast sometimes because its cinnamon-y and syrupy warmth reminds me of hot cinnamon rolls!
And this is also another one of those one oven/one time dishes which makes it easy to build your inventory!
ROASTED SWEET AND SPICY BUTTERNUT SQUASH

1 large Butternut Squash, peeled and cut into 1 inch thick half moon slices
1 t. salt
1/2 t. cinnamon
1/2 t. cayenne pepper
1/4 t. black pepper
1/4 cup Mrs. Butterworth's Sugar Free Maple Syrup
Preheat oven to 425.
Spray a lined baking sheet with canola or olive oil.
Toss squash and spices together on the pan and then give it all another good spray of oil.
Roast for 30-35 minutes. You want to the edges to brown and caramelize but want to pull it from the oven before it gets mushy.
Drizzle with syrup and serve.
PLAY WITH YOUR FOOD:
Butternut squash also loves sage. Just season squash with salt and pepper and add a handful of fresh chopped sage in the last few minutes of the cooking time.
Or, you can try fresh chopped rosemary or thyme.
Around the holidays, you can also roast the squash, cinnamon, salt and cayenne, along with a few sliced shallots and dried cranberries that have been soaked in apple juice or Calvados. With a drizzle of Skinny Maple Balsamic Vinaigrette and a sprinkle of bright green chopped parsley tossed on before serving, it's a skinny dish that really looks, and smells, like the holiday season.
After 25 years as a local and network anchor, Lisa McRee was just another American mother struggling, and failing, to lose weight. Finally, she cracked the code, and lost 30 pounds, quickly and for good, by doing what she loves: reporting, cooking and eating! Visit The Skinny to see how she did it.