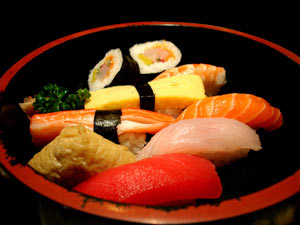 Hey, it's raw. But that doesn't make it simple.

It's a commonplace that sushi is a culinary style that comes very close to offering food in it's natural state. So we expect it to be ridiculously fresh, clean and manipulated only for presentation.

There's a new-ish sushi place here in Portland, its tiny space appropriately described by many as a jewel. Portland Maine you say? Japanese cuisine in Maine? Then you don't know just how much of what starts out here in Maine ends up Tokyo's Tsukiji market – the greatest fish market in the world and a mecca for sushi chefs and other seafood nuts. Ah, but I digress…

Food Factory Miyake is the name of the place, and its twenty or so seats are becoming harder to obtain these days. Rightfully so, as the raves keep coming for Chef Masa Miyake. Miyake's sourcing is varied and careful. His presentation simple but lovely, and the flavors! He goes beyond the norm with seared bonito – as close to beef as fish seems to come – or surf clams, or as he likes to call them, "Maine Conch" just barely blanched.

Miyake's dishes can sometimes look, and even taste, a bit French or Italian, and it's only fair to say that he's had experience outside of Maine, working with Chef Daniel Boulud and at Oceana in NYC. One night a plate of paper-thin cut bonito was arranged on the plate like prosciutto, with some delicate greens on top. Another visit an umami-laden broth for a scallop preparation approached the flavor depth of oxtail soup.

Green tea or red bean ice creams are normally the only desserts that interest me at most sushi restaurants, but here you'll find a tasty Yuzu crème brulee, once again, bridging the Japanese and Continental food cultures. Food Factory Miyake is BYOB. So pick up good bottle of sake, beer or wine in advance.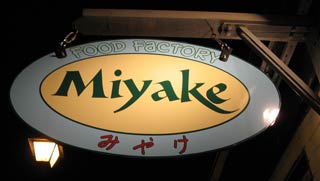 Food Factory Miyake
129 Spring St
Portland, ME 04101
(207) 871-9170
no website
Don Lindgren is an antiquarian book dealer, and co-owner, with his wife Samantha, of Rabelais, a food and wine bookshop in Portland, Maine. Don and Samantha live in Alfred, Maine with their dog, cats and chickens.