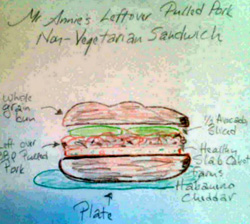 Since I photograph at least 50% of what I cook and bake, just in case I might someday wish to write about it and preserve an ephemeral cupcake or casserole for posterity, my camera is always where I can easily find it. Today, however, my camera was at a Minor League baseball game with Sam, after a prolonged series of "pleaspleasepleasei'llbe caaaaaaaaareful!" attacks wore me out. It didn't occur to me until after we had eaten what I considered to be an interesting lunch that I could have photographed it using my phone – I just scrapped the whole project when I remembered that my camera was on walkabout among a herd of sugar-addled sixth graders.
I had made really good sandwiches based on things lying around the house: leftover whole grain buns, two different kinds of cheese with hot peppers, pulled pork with barbecue sauce, an abandoned avocado…stuff like that.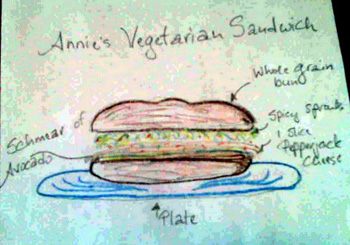 Mr. Annie got two giant sandwiches piled high with pork, Cabot Habanero Cheddar and avocado, and I made myself a more modest vegetarian model with no pork and a healthy pile of spicy alfalfa sprouts. Alas, these gems of thrifty husbandry were doomed to slip away (literally and figuratively), unmarked.
Later, I remembered an interesting piece I had heard on "All Things Considered" yesterday, about how people who do not enter art-related professions tend to stop drawing at some point because they "aren't good at it." The interviewee, a cartoonist, was advocating for lifelong drawing for everyone. I actually do still draw, not well, but for my own amusement. I am a serious doodler, and I have drawn the pictures Sam was supposed to have drawn for approximately 500 school projects.
So I drew the sandwiches.
Ann Graham Nichols cooks and writes the Forest Street Kitchen blog in East Lansing, Michigan where she lives in a 1912 house with her husband, her son and an improbable number of animals.