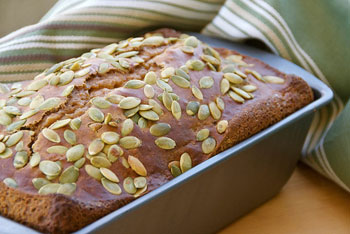 Where do you get recipe ideas? Cooking shows? Food magazines? The Wednesday food section of your newspaper? Blogs? (Um, I hope you nodded "yes" to that last one.) How about Twitter and Facebook?

Last time I had some overripe bananas to use up I could have made my favorite banana, coconut, and Medjool quick bread, but I wanted something savory. Nothing was coming to mind, so I did what any connected food blogger would do: I asked my tweeps.

I tweeted, "Does anybody have any good savory recipes for ripe bananas?" Within minutes I had several responses, but it was Jill of @eatitdrinkit's response that intrigued me. She suggested I make chipotle banana bread. Chipotle chilis in banana bread? Really? Yes, really.

When I asked her for the recipe, she said she didn't have one. The flavor combo just came to her, and before she realized it, she was making a batch of Banana-Chipotle Bread. When she posted it on her blog, she triumphantly exclaimed, "It worked!"
Inspired, I decided to give it a whirl as well and created my own version: Honeyed Banana-Chipotle Bread. The spicy chipotle chilis enhance the sweetness of the ripe bananas and honey, while the pepitas add crunch and nuttiness. Enjoy this bread plain, toasted with melted butter, as a dunker with a cup of soup or even the basis of a sandwich.
You could make Jill's version or mine. But they're so good that you might as well make both. You won't have any trouble finishing them.


Honeyed Banana-Chipotle Bread
The spicy, smoky chopped chipotle chilis are tempered with honey, giving this bread a pleasing mixture of heat and sweetness.

1 1/2 cups whole wheat flour
1 1/2 cups all-purpose flour or white whole wheat flour
1 tablespoon baking soda
1 teaspoon salt
2 teaspoons ground cinnamon
3/4 cup honey
4 large eggs
1 cup low-fat plain yogurt, strained
1/4 cup canola oil
2 small very ripe bananas (about 1 cup)
3 chipotle chilis in adobo sauce, chopped*
2 tablespoons unsalted pepitas*

1. Position a rack in the center of the oven and preheat to 350 degrees F. Coat 1 (8 1/2 X 4 1/2 -inch) loaf pan with cooking spray.

2. In a medium size bowl, whisk the flours, baking soda, salt and cinnamon.

3. In a large bowl, beat honey and eggs with an electric hand mixer. Add yogurt and oil; beat until batter is smooth. Lower the speed; add the bananas and chipotle chilis and beat briefly (it's ok if the batter has a few lumps).

4. Add the flour mixture to the egg mixture and mix until just incorporated. Pour the batter into the pan. Sprinkle with pepitas. Bake for 60-75 minutes, or until the top is a deep golden brown and a cake tester inserted into the middle comes out clean. Check the bread about halfway through. If you feel like the top is getting too brown, then tent the pan with a piece of aluminum foil and continue baking. You can also place the pan on two stacked baking sheets in the center of the oven to prevent the bottom of the bread from getting too browned.

5. Transfer the bread to a rack; let cool for 10 minutes, then unmold and place on a rack to cool to room temperature.

*Shopping Note: Canned chipotles in adobo sauce can be found in Mexican speciality markets as well as the Mexican food section of most major supermarkets. Pepitas are Spanish pumpkin seeds that can be found in Mexican speciality markets and speciality foods markets.
Susan Russo is a free lance food writer in San Diego, California. She publishes stories, recipes, and photos on her cooking blog, <Food Blogga and is a regular contributor to NPR's <Kitchen Window. She is also the author of Recipes Every Man Should Know
and The Encyclopedia of Sandwiches
.