Retro Recipes and Traditional Fare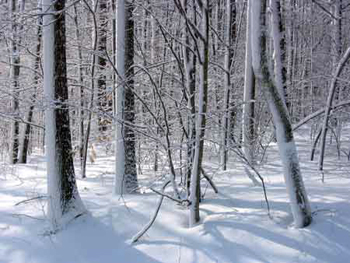 Okay, I'll try anything once and make the best of it if need be, but winter camping in near zero temperatures? I prepared a favorite dinner of braised rabbit with prunes, an undressed endive salad with the vinaigrette on the side and ramekins of chocolate mousse for our dream overnight camping in the backwoods of Northern Maine. We decided on a trail to cross country ski in on with my three dogs, nothing too challenging as we had lots of gear to transport on a toboggan plus it gets dark very early at this time of year AND it was our first test at "making camp" at rather cold temperatures.
Five miles in we found the perfect spot beside a icy, running stream to pitch our four-season tent, made a fire and enjoyed the pure silence of being in the Maine woods for the whole night. Everything was perfect, the tent went up easily without referring to the directions more than a couple of times, the sleeping bags were unrolled, the cushions to insulate us from the frozen ground were in place, we collected firewood from downed trees with a small saw as the sun started setting early like it does in the winter months.