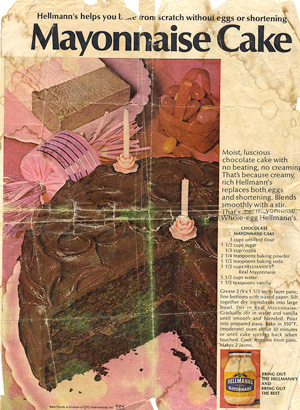 For some reason, I recently had a hankering for Chocolate Mayonnaise cake, a staple in our house when I was growing up. If you're not familiar with it, it's a wonderfully moist chocolate cake that was created, according to food legend, by the wife of a Hellman's mayonnaise salesman to help increase his sales. Although it may seem like an odd ingredient, the mayonnaise is used in place of eggs and oil, making it handy to throw together with just a few pantry ingredients.
It was probably one of the first cake recipes that I could make on my own (by age 11 or so), carefully following the directions on the back of the Hellman's Mayonnaise jar. I thought that I'd be able to find the recipe online, but it proved to be a bit of a challenge. None of the current recipes matched the one I followed years ago (most used a cake mix). I knew that original recipe called for boiling water, because it was the one step that always made me nervous as I poured the hot water in a measuring cup.
I decided to the search the always reliable Cook's Illustrated for the recipe. They have one that uses mayonnaise called The Best Easy Chocolate Cake, which has been updated to included chopped bittersweet chocolate and brewed coffee, and though sounded great, I was on a mission to find the cake of my youth.
I phoned my Mom, who said she hadn't made it years, but recalled that indeed "there was always a mayonnaise cake in our kitchen". She suggested calling my Aunt, who still had a copy of the now vintage PTA cookbook, which she felt would surely contain the recipe. As predicted, my aunt had the recipe but it turned out to be her mother's recipe, so I was thrilled to try my grandmother's recipe for mayonnaise cake. The method was exactly as I remembered and the resulting cake was spot on – utterly moist with uniquely chocolate flavor.
Grandma Moore's Chocolate Mayonnaise Cake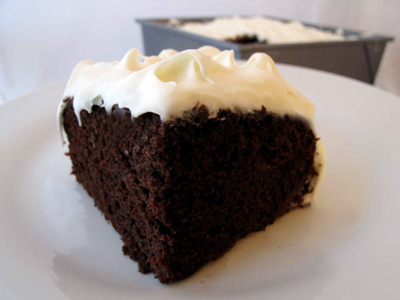 1/3 cup Hershey's unsweetened cocoa
1 cup boiling water
1½ teaspoons vanilla
1 cup mayonnaise
2 cups flour
1 cup sugar
1½ teaspoons baking soda
1/2 teaspoon salt
1. Preheat oven to 350 degrees F and adjust racks to middle position. Grease and flour 9x9" square or use baking spray.
2. Whisk together cocoa and boiling water in a medium bowl until smooth and cool to room temperature. When cool, whisk in vanilla and mayonnaise.
3. In a large mixing bowl combine flour, sugar, soda and salt. Add chocolate mixture and beat on low speed for 30 seconds to combine. Increase speed to medium-high and beat for 1 minute until smooth.
4. Pour batter into prepared pan and bake for 23-26 minutes or until tooth pick inserted comes out clean and cake springs back when lightly pressed.
5. Let cake cool in pan on wire rack, 1 to 2 hours. Dust with confectioners' sugar, cut into squares, and serve straight from the pan; or turn cake out onto serving platter and dust with confectioners' sugar or frost with favorite vanilla buttercream or cream cheese frosting.
James Moore has been a cooking enthusiast since childhood and started blogging as a way to share favorite recipes with friends and family. His site, Cook Like James has grown to include restaurants, cookbooks, wines, and favorite places.