Evan Kleiman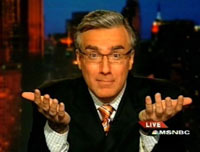 Big TV nights…what's a restaurant owner to do? I'll tell you the last thing you want to do. Stand in your empty place sobbing with your head on the bar. There are a couple of nights a year when you are pretty much guaranteed to be hosting a bowling alley rather than a bustling "eatery". Those would be, the night of The Academy Awards and THE UPCOMING ELECTION NIGHT.

So I decided to close Angeli Caffe on November 4th for in-house dining, but take-out? Hold onto that phone! It's sure to be a night of fingerbiting, sighing, barely held in panic attacks and a lot of swearing at the television. It's a night that caps off a couple months of the most intensely escalating high anxiety most of us have ever experienced not brought on by ourselves. The solution to get us through the night? LET'S EAT!

This isn't the night to savor a slow meal of a perfectly balanced plate of meat/fish/veggie entrée accompanied by two veg and a starch. No, I think this night calls for hours of guilt free grazing. Think crunchy, salty, (fatty?) bites. Cheese boards with your favorite crackers you never let yourself have. Full fat cheeses that seem like strangers to your home.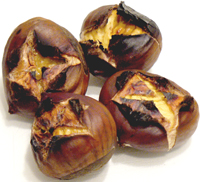 Thanksgiving in our house wasn't Thanksgiving without a stupid amount of chestnuts that needed to be roasted and peeled for stuffing. It was actually fun in a punishing sort of way. We were the house that hosted all the Thanksgiving orphans and to be able to eat on Thanksgiving you had to come over the night before and help roast and peel. Much hilarity ensued as everyone became convinced that their technique was the one way to peel the difficult buggers.

By the time the actual meal came around I was so full from tasting stuffing and eating the crumbled chestnuts that facing that groaning table made me want to groan. So I had my own meal I created from the bigger meal around me.

Before we sat down to eat, while the adults were having a drink and cheese, I became obsessed with my aunt's bowlfuls of Spanish peanuts, raisins and chocolate chips that were set throughout the living room. Forget gorp or trail mix or even Chex mix. That combo was like eating the best cookie ever without the dough.