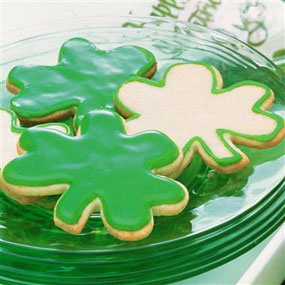 Ever since I was in grade school, St. Patrick's' Day has been a day when I wish I was at least a little bit Irish. The teachers at my school instructed their Irish students to wear something green on St. Patrick's Day. The rest of us – orange. So, while many of my friends came to school wrapped in green sweaters, donning fuzzy green shamrocks on their shirt, or wearing green socks, I would come with an orange headband in my hair. I would have preferred green.
As a young baker, though, I made sure our family had shamrock-shaped sugar cookies frosted in green on St. Patrick's Day. I never told my teachers. To this day, I don't wear a bit of green on St. Patrick's Day – my teachers taught me well. But, I don't wear orange, either. I just sneak a little bit of Irish into the foods I eat on that special day.
This year, I developed a pie with a fudge brownie crust, filled with Irish Cream pudding and topped with Irish Cream-spiked whipped cream. I discovered the brownie crust batter can be dropped onto baking sheets to create chocolatey rich cookies.
One bite and you'll think you've discovered the pot of gold at the end of the rainbow. But, wait. There's more. Creamy frosting made with coffee, chocolate and Irish cream is swirled over the top of each cookie.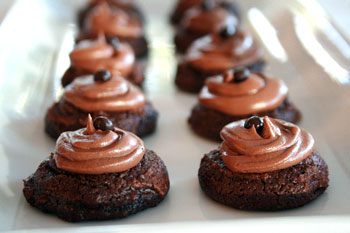 I topped each frosted cookie with one tiny Chocolate Crunchy Bit. I first experienced these cute candies a few months ago at Meritage, a restaurant located in downtown St. Paul. After an exquisite meal, I studied their dessert menu. One of the desserts listed was described as being served with chocolate rice krispies. In my mind, I pictured chocolate-flavored crunchy rice cereal and I could not imagine why on earth a restaurant serving such wonderful food would include dessert with cereal sprinkled over the top. I ordered it out of curiousity.
It turned out the chocolate rice krispies were not cereal. They were crunchy little chocolate balls. On that same trip to the Twin Cities, I found a bag of the cute chocolate rounds at Cooks of Crocus Hill. They're the perfect adornment for Coffee and Irish Cream Fudge Bites.
The fudgy cookies are just a little bit Irish in a non-traditional kind of way. But they will be all I need to sneak a streak of Irish into my house on St. Patrick's Day.
Coffee and (Irish) Cream Fudge Bites
4 tablespoons butter
3 ounces unsweetened chocolate, chopped fine
2 ounces semisweet chocolate, chopped fine
1 cup sugar
2 tablespoons unsweetened cocoa powder
2 large eggs, beaten
2 tablespoons brewed coffee or Irish whiskey
1 teaspoon pure vanilla extract
½ cup all-purpose flour
½ teaspoon salt
Preheat oven to 350 degrees. Place butter, unsweetened chocolate and semisweet chocolate into a 4-cup glass measure. Microwave at 50% to 60% power. Stir after each minute until mixture is melted and smooth. This will take just a couple of minutes. Stir in sugar, cocoa powder, eggs, coffee or whiskey and vanilla extract and mix well. Add flour and salt and mix just until thoroughly blended. Refrigerate dough for at least 3 hours or overnight. At baking time, drop dough, about a heaping teaspoon per cookie, onto parchment paper-lined baking sheet. Bake 8 to 10 minutes. Transfer to wire rack to cool. Makes about 4 dozen cookies.
When cookies are completely cool, frost with Irish Coffee Frosting.
Irish Coffee Frosting
3 tablespoons unsweetened cocoa powder
2 tablespoons strong, hot coffee
1 tablespoon Bailey's Irish Cream
3 tablespoons butter, room temperature
1 teaspoon vanilla extract
1 1/2 cups powdered sugar
Chocolate Crunchy Bits, for garnish
In a medium bowl, combine cocoa with hot coffee and Irish Cream. Add butter, vanilla and powdered sugar. Beat with electric hand mixer until creamy and smooth. Use a rubber spatula to scoop frosting into a sandwich-size plastic bag. Twist the top of the bag, moving the frosting toward one corner of the bag. Use scissors to cut a small piece from one tip of the bag. Squeeze the bag to pipe frosting onto the top of each cookie. Garnish with chocolate crunchy bits, if desired.
Sue Doeden is a popular cooking instructor, food writer and integrative nutrition health coach. She is the host of Good Food, Good Life 365 on Lakeland Public Television. Her own hives full of hardworking bees and her love of honey led to the creation of her recently published cookbook, Homemade with Honey.