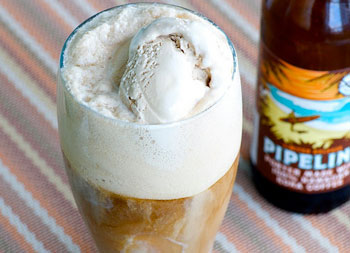 St. Patrick's Day. It's all about meat, 'taters, cabbage, and leprechauns. No wonder this Italian girl from New England has never gotten excited about it. Fortunately, it's also about beer, and that does get me excited.

I'm a late-comer to beer, but I love it; since I live in San Diego, that's a good thing. With a whopping 33 breweries producing craft beer, San Diego was recently crowned the top beer city in the country by Men's Journal.

I just discovered an amazing seasonal beer calle Pipeline Porter. It's brewed by Kona Brewing Company in Hawaii but distributed to only a handful of markets including San Diego. It may just be the perfect beer for a Beer Ice Cream Float.

Made with rich, freshly roasted 100% Hawaiin Kona coffee, Pipeline Porter is a smooth, dark, complex beer with a distinctive espresso flavor. It's delicious on its own, but it's downright decadent when paired with premium coffee ice cream for an authentic Beer Ice Cream Float. If you can't get Pipeline Porter, then substitute another porter or stout with chocolate or espresso notes. Then celebrate St. Patrick's Day, with or without the leprechauns.

Beer Ice Cream Float
Makes 1

2-3 scoops premium coffee ice cream
1 bottle Pipeline Porter (for San Diegans) or other rich, dark, coffee flavored porter or stout

Fill a tall chilled glass with ice cream, and slowly pour beer over it. Enjoy!
Susan Russo is a free lance food writer in San Diego, California. She publishes stories, recipes, and photos on her cooking blog, <Food Blogga and is a regular contributor to NPR's <Kitchen Window. She is also the author of two upcoming books that will be published in the fall of 2010.