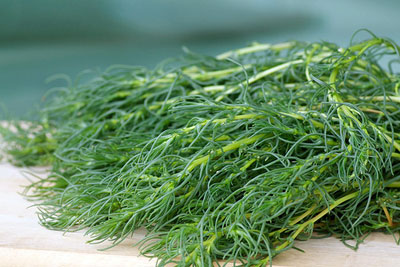 A couple of weekends ago at the Little Italy Mercato, as I was peacefully sorting through ears of sweet corn, I heard a woman scream, "Oh, my God! I can't believe it!"
Curious, I followed the voice, and noticed a woman a few tables ahead with her arms waving wildly in the air. She was talking rapidly and loudly and began jumping as if she were standing on hot coals.
"Oh, my God! I haven't seen that since I lived in Italy," she exclaimed.
What? What hadn't she seen since she lived in Italy? Gargantuan globe artichokes? We have those in San Diego. Mint green Vespas? Got 'em. A hot Italian guy? We have many of them, especially at Sogno di Vino and Bencotto in Little Italy. You're welcome, ladies.
Turns out what thrilled her was finding agretti, a springtime Mediterranean succulent, or water-retaining plant. With its verdant color and feathery texture, agretti looks like a cross between fennel fronds, rosemary, and grass.
After talking with Bob Polito of Polito Family Farms, I learned that agretti's season is very short, typically a few weeks, in late spring. So if you spot some, buy it!
I expected raw agretti to be soft like dill, but it was quite firm and crisp with a robust, grassy flavor. In fact, the day after I served this Fettuccine with Agretti, Lemon, and Olive Oil, I asked Jeff what he wanted to bring for his lunch. He said, "Got any leftovers of that pasta with grass? That was awesome."
Here's what you need to know about buying, storing, and cooking with agretti: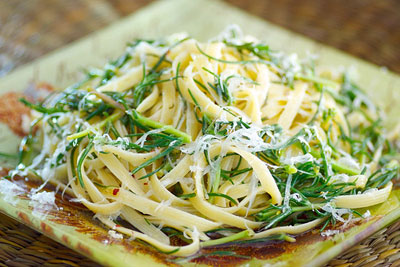 Where can you buy agretti? Agretti is a rare find. Your best bet is a local farmers' market or CSA that offers Mediterranean produce. You can also try growing your own, but it can be difficult since agretti is typically grown along the edge of salty marshes.
How do you store agretti? Place them inside a brown paper bag, or wrap them with paper towel, and place in the crisper drawer of your refrigerator. They should last 2 to 3 days.
How do you cook with agretti? First, cut off any yellowed or overly thick stems, then chop. Agretti can be eaten raw, chopped and tossed into salads; it can also be boiled, steamed, sauteed and stir-fried. Some people prefer cooking it a long time until very tender, but I prefer it cooked quickly and lightly so it retains its color and bite.
What can I substitute for agretti? With its unique grassy flavor, there isn't another succulent or green that tastes identical to agretti. However, tart, firm purslane would be a good substitute as would more bitter dandelion greens.
Here are five simple ways to cook with agretti:
1. Saute lightly in extra virgin olive oil, and douse with fresh lemon juice and a sprinkling of salt and pepper. It pairs well with chicken, fish, and lamb.
2. Saute lightly in extra virgin olive oil with bacon or pancetta and drizzle with a balsamic reduction.
3. Saute lightly in extra virgin olive oil, and fold into softly scrambled eggs with grated Parmesan cheese and lots of black pepper.
4. Saute lightly in extra virgin olive oil and use as a crostini or pizza topping with fresh mozzarella cheese, and cherry tomatoes.
5. Toss with arugula, escarole, and radicchio and drizzle with a tangy lemon vinaigrette for a full-bodied Italian salad.
Fettuccine with Agretti, Lemon, and Olive Oil
Makes 2 large or 4 small servings
If you can't find agretti, then your best substitutes would be either purslane or dandelion greens.
1 1/2 tablespoons olive oil
3 garlic cloves, thinly sliced
1 bunch agretti, chopped, with tough stems removed (about 2 1/2 packed cups)
The zest and juice of 1 lemon
8 ounces (1/2 pound) fettuccine, or other noodle
1/2 cup grated Parmesan or Pecorino cheese, plus extra for garnish
Extra virgin olive oil for drizzling
1. To prepare the agretti, cut off the bottoms of any thick stalks. Rinse well under running water and pat dry. Using a sharp knife, chop into small pieces.
2. In a large skillet over medium-low heat, warm olive oil. Add garlic slices and cook until golden brown and fragrant. Remove garlic from the pan and discard. Add the agretti, and cook about 5 minutes until wilted yet still firm.
3. Meanwhile, in a deep, heavy pot, cook pasta in salted water according to directions, until al dente. Drain and add to the skillet with the agretti. Add the lemon zest and juice and toss. Divide among plates; drizzle with extra virgin olive oil and sprinkle with a little cheese. Serve immediately.
Susan Russo is a free lance food writer in San Diego, California. She publishes stories, recipes, and photos on her cooking blog, <Food Blogga and is a regular contributor to NPR's <Kitchen Window. She is also the author of Recipes Every Man Should Know
and The Encyclopedia of Sandwiches
.