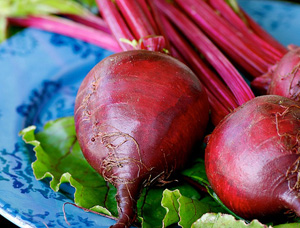 Cilantro haters have been vindicated.

The New York Times recently ran a story: Cilantro Haters, It's Not Your Fault, in which Harold McGee, respected food scientist and author, explained why cilantro really does taste like soap to many people.

According to experts from flavor chemists to neuroscientists, some people "may be genetically predisposed to dislike cilantro." Turns out that cilantro's aroma is created by fragments of fat molecules called aldehydes. Flavor chemists have shown that "the same or similar aldehydes are also found in soaps and lotions...."

So cilantro-haters are not crazy after all. But what about beet-haters? Why do so many people say beets taste like dirt or metal? Is it chemistry? Canned beets? Craziness?

Mention beets and people react extremely. Lovers wax that beets are as sweet as sugar. Haters wane that they're dull as dirt. Literally. This could be because they failed to properly clean their beets and ate dirt, which studies have shown tastes like dirt.

President Obama famously banned beets from the White House garden.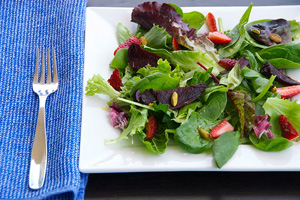 What about the metallic taste in beets? Lots of people blame the metal can, which studies have shown tastes like metal. But that doesn't explain why many people say fresh beets taste like metal. Perhaps it's iron. Beets are high in iron, which is why they're recommended for people with anemia or for menstruating women.

I'd like Harold to do a piece on beet haters next. Someone needs to get to the bottom of this enigmatic vegetable, and clearly it isn't going to be President Obama.

In case you haven't guessed already, I am a beet lover. Although even I admit that sometimes beets taste a little like dirt, or as we foodies like to euphemistically say, "earthy."

My friend Karen of Family Style Food said it best:"I think they do taste like dirt but with sugar on top."
Fresh Strawberry and Beet Salad with Rosemary-Lemon Vinaigrette
Makes 2 servings
Salad:
2 small beets (will yield about 1 cup cooked and sliced)
2 teaspoons olive oil
6-8 cups mesclun
1 cup sliced fresh strawberries
1-2 tablespoons lightly toasted pistachios
Vinaigrette:
1 tablespoon olive oil
1 tablespoon rice vinegar (or white balsamic)
2 teaspoons lemon juice
2 teaspoons water
2 teaspoons Dijon mustard
2 teaspoons finely chopped fresh rosemary
1/4 teaspoon lemon zest
scant 1/4 teaspoon salt
1/4 teaspoon black pepper
1. Preheat oven to 400 degrees, and center a rack. Wash beets, pat dry, and cut in half. Place flesh side down on a piece of aluminum foil. Drizzle with olive oil. Close the foil, creating a tent. Place on a baking sheet. Cook for 60 minutes, or until tender when pierced with a knife. Remove from oven and rest on counter (still wrapped in the foil) for 20-30 minutes. To remove beet skins, gently rub with your thumb until they peel off. (You might want to wear gloves to avoid red stained fingers.) Slice beets. (At this point, beets can be refrigerated for up to 4-5 days.)
2. In a large bowl, toss mesclun, strawberries, and beets.
3. In a small bowl, whisk all vinaigrette ingredients. Taste and adjust accordingly. Pour over the salad and toss well. Garnish servings with toasted pistachios.
Susan Russo is a free lance food writer in San Diego, California. She publishes stories, recipes, and photos on her cooking blog, <Food Blogga and is a regular contributor to NPR's <Kitchen Window. She is also the author of two upcoming books that will be published in the fall of 2010.