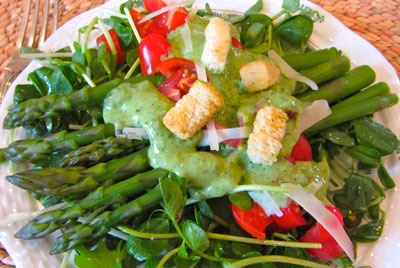 Of all the spring vegetables, asparagus is one of the easiest to prepare…simply grilled, oven roasted or shredded raw as a salad, it needs little more than salt and lemon to qualify as a side dish. But if you're looking to dress up those slender stalks in a more elegant way, try this: Cold Poached Asparagus with Skinny Basil Mayonnaise.
When my children were little and I was housebound, I threw some pretty elaborate dinner parties (it was the only way I could make sure I had decent adult conversation and good wine once a week), and a starter salad of asparagus with basil aioli (which is simply homemade mayonnaise) was always in my spring rotation.
With just 40 calories a cup and loaded with folic acid, antioxidants and tummy filling fiber, asparagus is one of nature's great gifts to dieters. But homemade mayo, which is made mostly of oil and egg yolks, is not.
And once I realized my otherwise innocent asparagus dressed with 3 tablespoons of The Barefoot Contessa's Basil Mayo had more than 300 calories – as a starter – I all but abandoned the dish.
Now, after skinny-fying and simplifying that sauce, it's not only easier, has a shorter list of ingredients and a longer shelf life, instead of 80 calories a tablespoon, it has just 8!
So whether you're throwing a smashing dinner party or just want a flavorful dressing to use on loads of other dishes, spring forward with this simple sauce….which will not only leave you satisfied, but also a little skinnier!
COLD POACHED ASPARAGUS WITH SKINNY BASIL MAYONNAISE
1 lb fresh asparagus spears, trimmed of tough ends
1 cup roughly chopped basil
1/2 cup buttermilk
1/4 cup low Hellman's Low Fat Mayonnaise (or Reduced Fat Vegenaise)
Zest and juice of 1 medium lemon (2-3 T juice)
1 tablespoon Dijon Mustard
1 teaspoon garlic, sliced
mixed greens to fill out each plate
chopped grape tomatoes, optional
slivers of Parmesan, optional
fat free croutons, optional
Place asparagus in a frying pan filled with cold water and 1 teaspoon of salt and set over high heat. Once it begins to bubble, cook just 1 minute more for thin stalks, 2 to 3 minutes more for thick stalks. Drain out the water and immediately put a few handfuls of ice cubes in the pan, swirling to quickly cool the asparagus so it will retain its bright green color.
Remove the asparagus to a clean kitchen towel or cloth dinner napkin to soak up the moisture, roll the spears up in the towel and place in the crisper drawer of your refrigerator until ready to use. (If prepping for an evening party, these can be done in the morning and kept chilled all day.)
To make the Basil Mayo, you can whirl all the ingredients in a small food processor.
But to save a clean up step, I combine all in a mason jar I can store the leftover dressing in and use an immersion blender to puree. Just make sure you puree half of the basil into the liquid before adding the rest or the immersion blender can clog.
TO SERVE:
Fill each salad plate with any soft greens, sprinkle just a few drops of olive oil and a little salt on them and toss lightly with your hands. Top with the chilled asparagus, the basil mayo and finely chopped grape tomatoes.
If you like, you can also add a few ribbons of Parmesan (just use your potato peeler and cut from the corners of the cheese for skinny strips.) Or you could add a a bit of grated hard boiled egg (only the whites if you're really serious about calories) or a few fat-free croutons. With the flavorful basil mayo now just 8 calories a tablespoon, you have wiggle room!
After 25 years as a local and network anchor, Lisa McRee was just another American mother struggling, and failing, to lose weight. Finally, she cracked the code, and lost 30 pounds, quickly and for good, by doing what she loves: reporting, cooking and eating! Visit The Skinny to see how she did it.