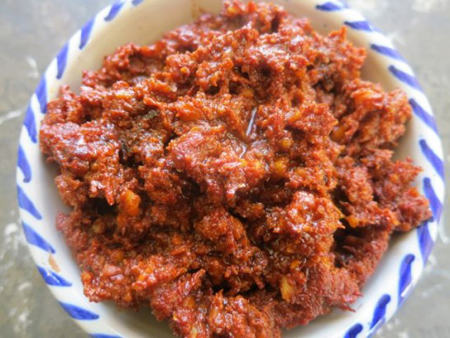 This is one of those recipes that seems more complicated than it is. Make it once and you'll never need to look at the recipe again. Eat what you make and you'll become addicted, learning new ways to use the nutty, spicy, sweet, deeply satisfying condiment. It's a no brainer on simple grilled, broiled or poached fish or chicken, but it's on vegetables where the sauce really shines.
Suzanne famously serves it atop potatoes. I've featured it here on this blog as part of a Grand Aioli, a dish where dipping becomes an art form of customization. I love it dribbled on fried eggs, tucked in a tortilla with whatever as a "colonial" salsa. I would really like to know your favorite way to eat Romesco. A spoon anyone?
If you can't find dried chiles pasillas then substitute the more commonly found New Mexico chiles. Pasillas have a more complex sort of winy flavor and a bit more heat than the brighter flavored New Mexico chile.
This is one of those recipes where the quality of the bread makes a tremendous difference. It's a peasant dish and assumes a peasant loaf, so try to find a great natural local natural yeasted bread in your area. If all else fails, use La Brea Bakery. I used a couple slices off a small boule from Roan Mills.
Romesco Sauce Suzanne Goin Style
Traditional Spanish sauce made in the style of Chef Suzanne Goin
Ingredients:
4 dried pasilla (ancho) chiles seeds and stem removed
1/3 cup raw almonds
1 1/4 cup extra virgin olive oil
2 slices sturdy country bread
1 14-oz can can peeled tomatoes in juice
2 peeled garlic cloves
20 leaves flat leaf parsley optional
1-2 tbsp Sherry Vinegar to taste
salt to taste
Instructions:
Leave the chiles to soak in warm water to cover while you prepare the rest of the ingredients.
Put the almonds on a small baking sheet and roast them in a 400 degree F oven just until the almonds expand a bit and the skins begin to pop off. You'll smell when they're right. Don't over roast. Set them aside to cool when done.
Heat the 1/4 cup olive oil in a skillet that will accommodate the bread slices. Toast the bread on both sides until nice and golden. Remove from pan and cool. Try not to eat it all.
Once the toast is cooled to the touch rip it into a few pieces to make it easier to blend. Combine with toasted almonds and garlic.
Process the bread, almonds, garlic in a blender or food processor so that it's crumble like but not too small. You want rustic here. Don't worry about the crusts. You can pick those out and eat them. Chef's delight!
Once the chiles are soft, drain them and pat dry. Heat a bit more olive oil in the same skillet you used to toast the bread and sauté the chiles until they darken and start to smell really good. Add the can of tomatoes with all the juice and cook over high heat, squishing the tomatoes as needed with the back of a spoon or a potato masher.
Cook the chile-tomato mixture until the tomato juices evaporate. Add salt to taste.
Add the chile-tomato mixture to the bread-almond mixture in the blender. Add the sherry vinegar and the parsley if using and puree to your favorite texture. I like it so I can still see pieces of almond.
Evan Kleiman is an active speaker on culinary subjects as well as issues of food culture and sustainability and, just to keep a balance, she has a very public love affair with Pie. She's been called the Jerry Garcia of cooking with the freewheeling improvisation she brings to the kitchen. You can follow her exploits on her blog at http://www.evankleiman.com/