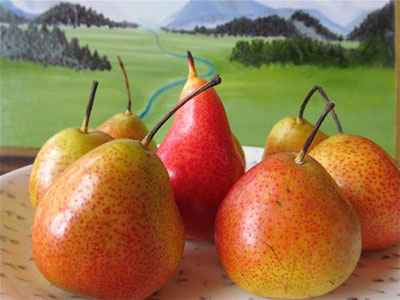 These tiny, almost impossibly perfect little Forelle pears are the kind I could only imagine in an Hironymous Bosch painting. They weigh almost nothing and go down in two bites.
I had never seen them before, and when I looked them up I discovered they are an old variety dating back to the 1600s in Germany. I spotted them in a supermarket and asked the staff what their name was. "I don't know, but no one is buying them."
I scooped up a few and coveted their shiny colorful beauty in such a small package. I placed them on a plate and put them in front of one of my recent paintings. I gazed at them for almost a week before deciding to use them to make a French classic dessert: Poires Belle Helene—a chocolate dessert with a healthy twist to it.
As far as easy desserts go, this has to be one of the easiest. Poach the pears. Ladle warm chocolate sauce over them. And use any kind of pear. I just happened to fall in love with these little wonders!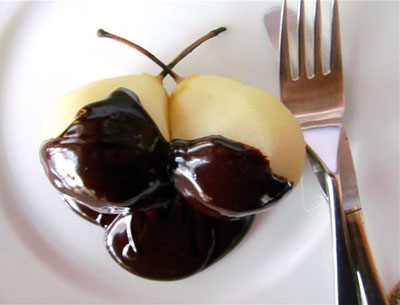 Poires Belle Helene
Ingredients:
any amount Forelle pears
1 lemon
3 cups muscat wine, or any sweet wine
1/3 cup honey
1/4 teaspoon vanilla extract
Cooking Directions:
Make the syrup: pour wine, honey and vanilla in a saucepan and bring to a boil.
Peel the pears with a vegetable peeler, rub with lemon juice.
Reduce the heat under the syrup, add the pears, and cover with a loose piece of aluminum foil.
Poach for 10-15 minutes, depending on the size of the pears.
Cool pears in the liquid. Drain.
Chocolate Sauce
Ingredients:
1 cup heavy cream
10 ounces semi-sweet chocolate chips
1/4 teaspoon vanilla extract
Cooking Directions:
Pour all the ingredients into a saucepan. While heating, whisk until the sauce comes together and is hot. Pour the hot sauce over the pears and serve immediately.
Hillary Davis is the author of French Comfort Food, Cuisine Niçoise, and A Million A Minute. She is presently at work on her next cookbook. You can follow her food adventures in France and around the world on her blog Marché Dimanche.