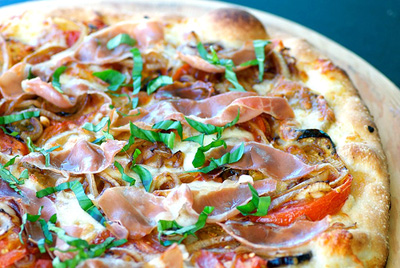 Makes 8 slices
I used store bought basic white pizza dough for this recipe. But if you're looking to make your own, here are my recipes for basic white pizza dough and whole wheat pizza dough.
1 pound store bought pizza dough
1 medium eggplant, cut into 1/2-inch thick round slices (about 8-10 slices)
1 medium sweet onion, such as Vidalia, thinly sliced
5 teaspoons olive oil, divided
2 teaspoons sherry vinegar
1/3 cup tomato sauce
2 tablespoons chopped sun-dried tomatoes (about 5)
2 tablespoons sliced Kalamata olives (about 8)
2/3 cup shredded smoked mozzarella cheese
1/4 teaspoon crushed red pepper flakes
1 tablespoon yellow cornmeal
1 tablespoon fresh finely chopped basil
1 tablespoon fresh finely chopped parsley
8 slices of prosciutto
1. Preheat oven broiler. Line a large rimmed baking sheet with aluminum foil for easy clean up. Lay eggplant slices on sheet without overlapping. Brush both sides of slices with 2 teaspoons olive oil. Broil for 7-8 minutes or until browned. Flip over, and broil another 4-5 minutes or until lightly browned. Remove from oven.
2. Position an oven rack in the lowest setting. Place pizza stone on the rack. Preheat oven to 500 F. Heat 2 teaspoons olive oil in a medium skillet over medium heat. Add onions; cook, stirring occasionally for 5 minutes. Once they begin browning, lower the heat and cook until soft and browned all over, about 12-15 minutes. Stir in sherry vinegar and heat 1 minute.
3. Roll out pizza dough on a lightly floured surface. Brush with remaining 1 teaspoon olive oil. Spread with tomato sauce leaving a 1/2-inch border. Top with half of the smoked mozzarella. Arrange eggplant slices, slightly overlapping. Top with sun-dried tomatoes; arrange caramelized onions evenly on top and scatter the olives. Sprinkle with crushed red pepper and remaining smoked mozzarella. Slide pizza onto preheated pizza stone scattered with 1 tablespoon yellow cornmeal. Bake for 8-10 minutes, or until both the top and bottom of the crust is golden brown and the cheese is melted. Place prosciutto slices on the hot pizza. Sprinkle evenly with fresh herbs before serving.
4. If you don't have a pizza stone, then preheat oven to 450 F. Place rolled out dough a parchment-lined rimmed baking sheet. Bake for 20 minutes, or until both the top and bottom of the crust is golden brown and the cheese is melted.
- Recipe courtesy of Susan Russo