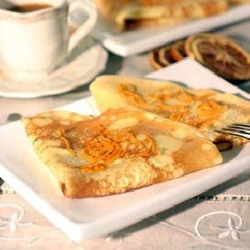 Why is a mimosa called a mimosa? The flower is sort of pink and spikey. The drink is spiked...? The drink is actually orange, fresh orange juice and preferably good champagne and it was first served (or first served under the name mimosa) at the Paris Ritz. But I'm still not certain why it's called a Mimosa.
Cherries Jubilee is easier to determine. It was invented by Auguste Escoffier who prepared the dish for one of Queen Victoria's Jubilee Celebrations in the late 1800's and paved the way for other fruit flambéed desserts, notably Crepes Suzette which legend has it was created in 1895 at Monte Carlo's Cafe de Paris by a 14 year old sous chef by mistake – he got too close to a chafing dish and the alcohol caught fire – as he was serving the Prince of Wales who was dining with a young lady whose name was, you guessed it, Suzette.
Bananas Foster (another flambéed creation) was invented in New Orleans for a diner named Richard Foster, hence the name.
The Bloody Mary was dubbed such by actor George Jessel who added tabasco sauce to the original drink which used to be called a Red Snapper.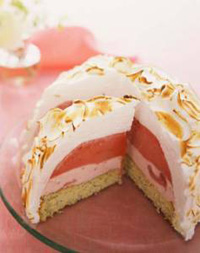 The Polo Lounge's McCarthy salad was named after Neil McCarthy, the polo playing millionaire and is their spin on a Cobb which, by the way, was originally served at the Brown Derby and named after their manager, Bob Cobb who invented it as a late night snack for himself.
Caesar salad was created by an Italian born Mexican restaurateur named Caesar Cardini, although his brother Alex said he really invented it. But somehow an Alex salad doesn't sound the same.
Which brings me to Baked Alaska which is, also, called Omelette a la Norvegienne, and was supposedly invented by a Chinese chef and has the curious quality of an ice cream filling covered with egg-whites that bake just long enough to brown the meringue but not melt the ice cream, a delicate feat which has something to do with the heat resistance of beaten egg-whites and except for its curious appearance of snow capped peaks, has no other relation to Alaska, and no one's quite certain how it got its name.