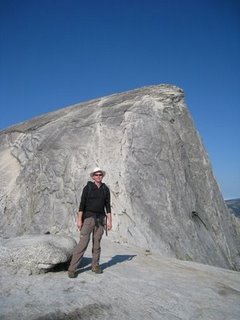 The Mountain Room restaurant at Yosemite Lodge in Yosemite National Park in California is a great place to have a burger after a hike. If you have never visited Yosemite, there are plenty of hikes to work up an appetite. I joined 10 friends as we assaulted Half Dome over 2 days. The hike covers about 4800 feet of altitude gain over a 17-mile hike.

After a night of martinis at the Ahwahnee Hotel bar, we rose early on Saturday morning and started on our hike. After climbing about 2000 feet and hiking past Vernal and Nevada falls, we camped out in little Yosemite Valley. The next morning we headed up the trail to Half Dome reaching "the Cables". The cables are two parallel cables stretching up the shear side of half dome. It is the only way up unless you are a rock climber and was one of the most exhilarating experiences of my life. The views up top were incredible. (Photo below: The team perches on top for a photo before descending 8.5 miles for a burger.)
At 9:30 AM we began our 8.5-mile descent back to the Valley and our burgers. We stopped for a camper's lunch and packed up our tents. At 4:30 we made it to Yosemite Lodge and our much anticipated burger rendezvous at the Mountain Room. We were very disappointed to see they didn't open until 5:30. So we had to make due with beers and guacamole at the bar.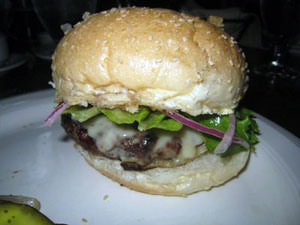 Finally we sat down in the Mountain Room and ordered our burgers. All seven of us at dinner ordered the Hamburger. For $15 you get a 1/2-pound locally raised, grass fed beef burger with Gruyere cheese. It sat on a huge white sesame bun that was not toasted and was a bit large for the burger. It came with lettuce, tomato and onion on request. The burger was nicely prepared and had a good charcoal flavor. For the price it was not as spectacular as one would expect, but after a long hike, was devoured by the team. The burger also came with some rather pathetic roasted red potatoes on the side.

In the end, the burger was a nice capper to an amazing weekend. If you have never been to Yosemite, you are missing quite a treat. And I am not just talking about the burger.