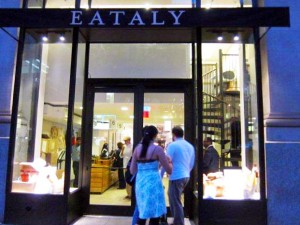 The word on the street is that Mario Batali has been losing sleep. He's been seen pacing up and down in front of his various restaurants, wringing his hands and sighing – all because he heard I've been visiting Eataly, the Batali/ Bastianich Italian food extravaganza on 23rd St. and Fifth Avenue, and that I'm finally ready to weigh in with my considered opinion.
Well Mario, you can relax. I'm kind of crazy about the place. I actually like it more each time I go. Here are a few experiences: My first visit was two days after Eataly opened and the place was a mob scene. Mario was holding forth in the middle of it all, the cameras were whirling and I wanted out as soon as we – Jill and I and our friends, Joe and Teresa — walked through the door. We looked around as best we could but we could barely move, much less see. It seemed more like a trade-show floor than a market.
We finally managed to finesse a row of stools at the vegetarian counter, the least populated of the eating areas. I argued for the two-hour wait at the pasta/pizza emporium, but I was voted down. So there I am — all grumpy about being forced to eat vegetables, feeling crowded and bumped and stepped on, and suddenly – miracle of miracles — the vegetarian counter is fantastic. It wasn't seconds before we had cool glasses of Rosato in front of us – a nice pink Friuli wine imported by the Bastianich family. The guy behind the counter was fun and helpful. We decided to order a few different things and taste around – not usually my favorite way to eat, but the Eataly experience works well this way. It's a market; you taste things; if you like them, you can also buy them and cook them at home. I started to get into the concept.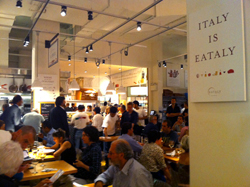 We ordered the vegetable soup and four spoons and passed it up and down the counter, slurping it up, dipping chunks of crusty bread into it, sopping up the goodness. Great soup. The grilled eggplant with capers went down in a flash and we ordered the fritto misto, which turned out to be one of the best of that classic I've had in town – the lightest batter tucked around squeaky fresh vegetables, flash fried and perfectly salted. A sip of that rosé and you're in heaven.
My second visit, I was on my own. My acupuncturist is in that neighborhood, so after getting my chakras balanced I wandered into Eataly around 11:30 in the morning, mid-week. Whole other story, of course. The crowd was brisk, but you could move around comfortably, take your time, shop a little. I decided to buy dinner. It was just the two of us that night, so I figured what the hell – I assumed the prices would be high, but I decided to splurge. I got totally absorbed in the greenmarket section – right as you come in the door. Everything was beautiful – the best of the best – and they had a lot of produce that you wouldn't be able to find anywhere else – little Asian peppers, for example, that I took home, blistered in oil and salted for a lovely snack with drinks.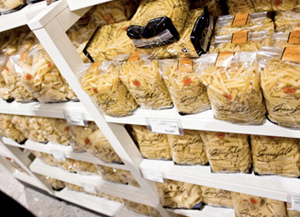 I bought some perfect chanterelles and sugar snap peas that I would sauté together for Jill's required veg. I went to the fish section and bought ten perfect and plump sea scallops – five each – for our main course. That's dinner. Then I wandered around a bit – just like Mario would like me to. I was totally seduced by the pasta section, which is immense. I couldn't stop myself from buying a couple of pounds of sexy, Napolitano spaghetti. I'm a sucker for good spaghetti. I bought some prosciutto to taste, a can of tomatoes that looked good and a half-pound of Italian butter to brown the scallops in. Then I made my way to the check-out. The total? Including the beautiful scallops? Thirty-three bucks. I was stunned – I was thinking it would be at least sixty.
On the third visit, Jill and I made a plan to meet friends for lunch at Eataly's fish spot – called Il Pesce, of course. Jill and I went early, put our names on the list and went shopping through the store with a vengeance. We were hungry and everything looked good. Four grocery bags and ninety-eight dollars later, we met our friends – just as our table was called for lunch. Timing is everything at Eataly.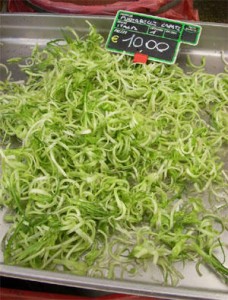 Again, we grazed. We got a bottle of Vermentino from Sardegna and shared a fish called John Dory – San Pietro in Italy – it was perfectly grilled and came intact to the table. We asked our server if he would bone it and he said they didn't do that here – because it's an open floor – not a controlled restaurant space. He was very nice about it and we all knew how to bone a fish, so it was no problem, but I thought the point was important: this is a market; we'll cook some things for you – to whet your appetite, to show off our wonderful food, to titillate you – but we're not a restaurant – we're a market.
Okay, I thought. I'm getting it. We shared a plate of raw shrimp – they're justly proud of their crudo at Eataly. Then I had to try their mixed fish fry, which was great – especially alongside a puntarelle salad with anchovy dressing. That was Jill's favorite.
After lunch we schlepped our groceries home and the next night made a spaghetti with lobster and baby artichokes from Batali's Babbo cookbook. And I must say that the superior ingredients we bought at Eataly made the dish.
Bravo, Mario!
Michael Tucker is an actor and author whose third book is the recently published Family Meals: Coming Together to Care for an Aging Parent
. You can read more about his food adventures on his blog Notes from a Culinary Wasteland.