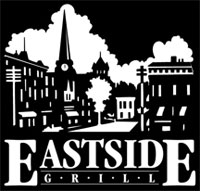 While back home in Massachusetts for my father's 70th birthday – which is so hard to believe – my husband, older sister Sue and I wanted to take him out one night for a first-class, adult meal before the nieces and nephews descended and the backyard grilling began. We tried to get him to choose a place he wanted to go, but he wasn't in the mood to decide, so he left it up to us. He was thrilled we were there – it's been a year since we were together – and glad for a night out, but the occasion was something he would rather have ignored. I can't say I blame him.
Since I haven't lived in the region for two decades I deferred to my sister, who's had her whole life to scope out the area. Having just come off a 5-day seafood bender while on Cape Cod – with no complaints mind you – we were in the mood for something a bit heartier. Plus, we had to please the parents, which is not always an easy task. Dad will eat just about anything. Mom is a bit more selective. Sue's choice of the Eastside Grill fit the bill perfectly.
We figured since it was a Wednesday night at 6pm we'd have no trouble getting a table. Boy, were we wrong. The place was packed to capacity and it's not a small venue. Clearly, when you make great food at reasonable prices you can thrive even during a poor economy. Northampton has plenty of good restaurants, but I doubt they were all as busy as this place. We had to squish together in the bar area (or wait for an hour), but that just made the experience more cozy and not as loud, since we were the only ones in there.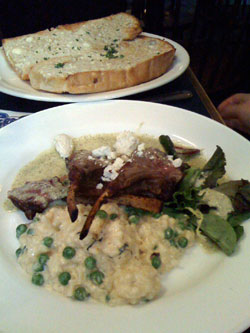 Established over 20 years ago, the menu specializes in American fare with a heavy seafood and Creole/Cajun slant. If I hadn't eaten my weight in clams, crab and lobster the week before, I would have been seriously torn between their Crab Dumplings, Seafood Risotto or Sesame Scallops. I even momentarily considered the Caramelized Tuna served over Warm Asian Slaw...and I almost never eat fish not of the crustacean variety. In the end, it didn't take me very long to figure out what I was going to have - the Rack of Lamb with Mint and Goat Cheese Sauce. I just love lamb, but have still not mastered cooking it at home so it's usually my go-to dish when out and about. It was served over sweet pea risotto, which, after so much heavy, fried food, made my mouth happy with all the green freshness. All I can say is the execution hit the spot.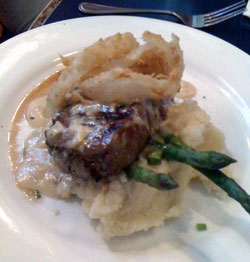 I knew what the Man was getting the minute I saw the menu. Sure, he paused for about a second over the options of Chicken Etouffee and Jambalaya, but they were no match for the palate of this MidWest man. Once I saw the description of the NY Sirloin with Onion Rings topped with a crab meat and blue cheese fondue, there was no other choice. My mother seconded his selection and they both cleaned their plates with abandon. My sister opted for the Sweet Mustard Barbecue Pork Tenderloin with maple mashed sweet potatoes which was fork tender and both sweet and savory. It had the flavor and texture of BBQ ribs without the messiness. The birthday boy had a hard time – I think he would have ordered more than one entree if we let him – but finally settled on the Pan Roasted Duck with sauteed greens and mashed potato pancakes. He rarely gets to eat duck and I have a feeling the next time he gets a craving they'll be heading here to satisfy it.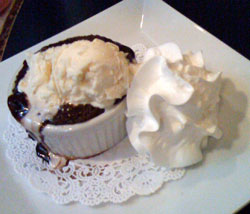 With even their seafood entrees under $20 it's not hard to understand why this place is so popular. That the quality and creativity is so high at that price point is a rarity. Everyone left the table thoroughly happy and sated, pleased with their selection and a bit jealous of the others. At least we all shared a bite or two. The portion sizes were also just right, leaving enough room for the salad that comes with each entree and a bite of shared dessert. Dave and I couldn't resist ordering the Gorgonzola Garlic Bread, which is making my mouth water just thinking about it. My dad was disappointed in the Key Lime Pie– not limey enough for him – but the ladies loved the Warm Molten Chocolate Cake. In my opinion, it didn't need to come with ice cream and whipped cream, but they weren't complaining. Though they don't have an overly large wine list, it is well chosen with a good variety of selections by the glass and bottle prices that won't break the bank. A pleasant surprise for a wine lover like me. They also have a decent selection of after dinner drinks and specialty martinis for under $8, a price only seen at Happy Hour in Los Angeles.
It was such a great experience, we joked about returning the following night before we even left the table. If I didn't live 3000 miles away, I'd be a regular. As it stands, we now have a new favorite place to go when we return on our next visit. And the trip after that. I don't think we will have any trouble getting the parents to join us.
Eastside Grill, 19 Strong Avenue, Northampton, MA 01060, (413) 586-3347
Lisa Dinsmore is a writer, web programmer, movie and wine lover. She currently runs two review websites to share her passions: www.crazy4cinema.com and www.dailywinedispatch.com.