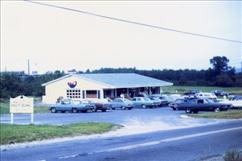 Atkins can't have been 20 minutes from Gram's house, but it always seemed like such an adventure, finding our way to this oasis in the middle of nowhere because of the orchards and farmland surrounding it. (It's located in Amherst, which is hardly a backwater, but I was 8 so what did I know.) These trips were special because they didn't happen very often and were also parent-free. We could eat as many donuts as our stomachs could tolerate – usually two – and savored (without guilt), not only their sweet, cinnamony goodness, but the time we shared together.

There's no doubt we brought back a bushel of apples as well, but I don't remember ever eating them. Who wants to eat plain old fruit when they can be turned into so much more? Following in his mother's footsteps (that would be my other grandmother), my father became and still is a great apple pie maker. I'm sure one of his creations was the final destination for our bounty, but for me nothing could compare to those donuts. We weren't denied sweets – in fact half of my diet consisted of them – so I can't explain the allure of this particular treat. It was just delicious. Period. And straight out of the oven? Pure heaven.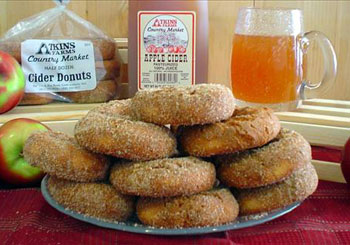 I rarely return to New England at harvest time, but when I do, I beg my sister to take me to Atkins. Or at the very least, to hook me up with some donuts and cider. You may think the "Cider" you buy in the grocery store is good, but you'd be wrong. Nothing store-bought tastes as good, or even remotely, like theirs, since it's freshly pressed and unpastuerized. From the hearty texture to the sweet spiciness, it's like apple juice infused with the flavors of pie. I go through a gallon in a weekend. Not a drop is wasted or shared. Hey, she can get it whenever she wants.
We stopped recently on our yearly vactation East and I have to say everything was as delicious as I remembered...a rarity these days. Apparently, we aren't the only ones who find these treats irresistible, as the place was packed to the gills. No longer just a simple fruitstand, Atkins is now a high-end market with premium selections of local cheese, fresh produce, all-natural meat and seafood, gourmet snacks and a respectable wine selection. I guess it's good I live 3000 miles away or I'd be in there every day of the week.

Of course, with the power of the Internet, I can have the donuts I love delivered to my front door. Sometimes the web is a blessing and a curse. Am I going to be able to resist? Now that I've had them again and know how good they are, I wouldn't bet on it. Besides, I know my grandmother would approve. Traditions are traditions and it wouldn't be Fall without them.

Atkins Farms
1150 West St
Amherst, MA 01002
Lisa Dinsmore is a writer, web programmer, movie and wine lover. She currently runs two review websites to share her passions: www.crazy4cinema.com and www.dailywinedispatch.com. She is also the Managing Editor of One for the Table.