On a Clear Blue Day You Can See Malibu Seafood
by David Latt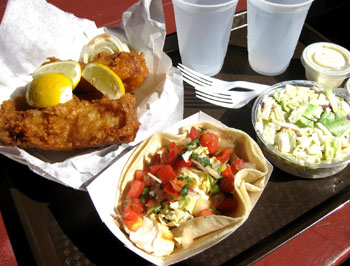 People who don't live in Southern California forget that in the winter, the temperatures can drop into the 40s and even the 30s at night.
That's mild compared with the weather experienced by our friends and relatives who live in other parts of the country.
But even here, a sunny day is appreciated all the more after several weeks of gloomy weather. The last couple of days were beautiful. Bright blue, clear skies and temperatures in the mid-70s. Just about everyone switched to shorts and t-shirts.
A perfect time to drive up the coast and have lunch at
Malibu Seafood
(25653 Pacific Coast Highway, Malibu, 310/456-3430, 310/456-6298, fax 310/456-8017), 1 1/2 miles north of Pepperdine University.
Even though the menu has a lot of variety, I always order the same thing, a very politically incorrect basket of fried fish with fat cut fries and tartar sauce. Michelle likes the ahi tuna burger or the grilled fish taco with a side of cole slaw. If you want to keep the calories down, there are salads and grilled fish and for anyone flush with cash, the Maine Lobster plate.
Besides the made-to-order food that reminds me of East Coast clam shacks, Malibu Seafood is also fun because the location is so beautiful.
Sitting on a rise above the Pacific Coast Highway, the open-air, covered dining areas look out over an expanse of bright blue water. What a treat to sit at the battered, wooden picnic tables, eating salty, crunchy fish, drinking iced tea with lemon wedges, feeling the cool breeze coming off the water, just taking it easy and enjoying hanging out with my wife.
David Latt is an Emmy-award winning television producer who turns to cooking to alleviate stress. He shares his experiences with food and his favorite recipes on his blog Men Who Like To Cook.
Los Angeles


by

Sharon Oreck





Suzanne Goin, the uber-talented celebrity chef of Lucques and A.O.C. Wine Bar fame, was rumored to be the front runner for the 2005 James Beard Chef-of-the-Year award, and as far as I was...

Read more...

San Francisco


by

Amy Sherman





You may have eaten at Slanted Door or even at Out The Door either at the Ferry Building or at San Francisco Centre, but you're going to want to try OTD Bush in the Fillmore. In addition to many...

Read more...

London - British Isles


by

Anna Harari





Spring break senior year, two months before I graduate from NYU is not exactly a vacation even though I went to London to visit my Dad. It's more like preparation for my final senior project, a...

Read more...

London - British Isles


by

Carolan Nathan





Rules is the oldest restaurant in London. Situated in Maiden Lane, Covent Garden, this eaterie is simply splendid not only for the food but also its history and the pictorial passing of time...

Read more...