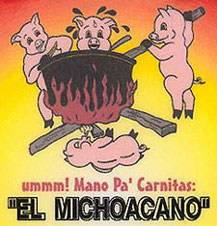 Los Angeles has the best Mexican food in the world.
An established foodie might suggest this claim be true, because of Los Angeles' high end Mexican cuisine. Places like Casa in downtown or Mexico City in Los Feliz.
But I'm no foodie, so I'm not going to make that claim. I am just a dude who really enjoys regional Mexican food, and LA has got way more of it than any other place.
Without opening the census books, anecdotal evidence shows us that there must be a large percentage of Mexicans from Jalisco. Look at all the restaurants named Taquería Jalisco or Tacos Jalisco #2. This compounded with the prevalence of stickers for the Chivas from Guadalajara, proves my amateur research (Chivas' MLS team is also based in LA.)
Jalisco like Michoacan, their paisanos to the south, has a propensity towards carnitas that delectable slow roasted pork dish. Carnitas end up everywhere, because this community is so large, and this regional Mexican cuisine has come to embody "Mexican Food" to gringos.
Even Mexicans try to describe their restaurants as "authentic Mexican Food." It may be true that they have the most authentic food to the village they grew up in; but calling it the catch-all phrase "Mexican Food," becomes as imprecise as describing Boston Clam Chowder and Nashville Ribs under the umbrella title of "American Food"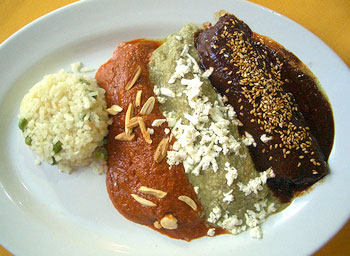 The lens of "authentic Mexican Food" similarly occurs in New York. California transplants to la Gran Manzana, often find themselves disappointed by the "lack of quality Mexican food." The closest they come to 'authentic' burritos, is a local chain that rarely hits the spot, and boosts Chipotle's status to the best burrito in Manhattan.
But Californian foodies are applying their understanding of "Mexican Food," (burritos, carnitas, and carne asada) to a place whose ethnic Mexicans don't eat that cuisine.
The largest Mexican community in New York has emigrated from Puebla. Refried beans and flour tortillas are not part of their traditional cooking. Poblanos have brought with them vibrant dishes like mole, pastor, and cemitas.
So New York does some Mexican food very well, just not the kind that gringo-Angelenos are used to.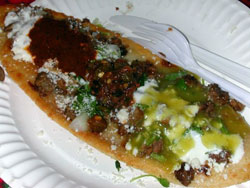 Luckily Los Angeles has the second most Mexicans of any city in the world, so if you want to try something that isn't from Michoacan, you are in luck. It takes some effort but you can find regional Mexican cuisine all over Los Angeles.
Indulge in huaraches, masa cooked into the shape of shoes, originating in Districto Federal. Try cemitas, sandwiches on sesame roll served with milanesa and queso panela, from Puebla. Taste Oaxacan tlayudas, a sort of indigenous pizza. Eat Cocinita Pibil, a marinated pork dish from the Yucatan. Sip on pozole, the hominy soup from Guerrero.
Los Angeles has the best Mexican food in the world, because of its diversity in selection.
(I might concede and say that DF has that same diversity. But you have to remember, they lack those deep-fried, ground beef, American-style tacos that Henry's does oh so well.)
Joshua Heller is a writer who travels, a lot. His favorite food is tacos. Check out his blog: http://hellerscorner.blogspot.com