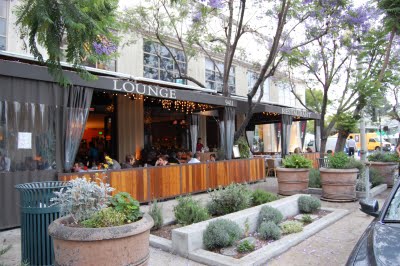 I know I'm really late to the game on this one, but I finally went to Fraiche in Culver City. I'm not going to lie, it wasn't justchance that kept me from trying it. It's not that I don't want to give Culver City a chance. I do. And I have. I've been to Wilson – terrible and terriblyexpensive (good riddance). I've been to Akasha (and will probably go back)—I highly recommend the lamb sliders, but it's a little expensive for me. I've even been to Royal/T where, although I do like the idea of eating in an interactive art gallery, the food is only so-so and there are way too many children running around. But my mom would not stop raving about Fraiche. So I decided to swallow my bias about Culver City and try it. Plus, Matt and I really needed to go on a date—for both of our sakes.
It was surprisingly easy to make a reservation and I guess they sensed we needed a "date" because they made us wait a few minutes so that we could have the best table in the house. The menu is full of fresh ingredients (baby beets, house-made ricotta), surprising combinations (white wine and saffron) and besides the shellfish platters, nothing is over $25.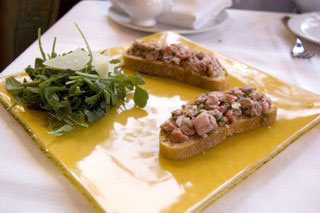 And the drinks are some of the best I've had in LA. I ordered the Summer Sage which is like spiked spa water and Matt had the Bourbon Street (Bourbon, Grand Marnier, egg whites and orange bitters) which I thought I was going to spit back up on the table but ended up liking so much that we've since tried (unsuccessfully) to make it at home.
We shared the beef tartare to start, which was unreal. Matt got the bacon confit risotto which is as decadent and delicious as it sounds and I got the zucchini and scallop pasta. The scallops were cooked perfectly and the zucchini had been creamed into a rich (but not too rich) pasta sauce—and I don't even like zucchini. And the portions were just right. Fraiche singlehandedly changed my mind about Culver City. I can't wait to go back and try something else on their ever-changing menu and maybe I'll even try Tender Greens one night too.
Maia Harari is a writer and choreographer, born and raised in Los Angeles. You can follow her on twitter at www.twitter.com/maiacalypso