The fish I tasted along with herring, mackerel etc still to try are Travis' particular obsession. Then there is Travis' bread which is everywhere in the space. Long light white and speckled buckwheat baguettes with the most beautiful internal color and open structure, seeded boules, new version '70s whole grain sandwich bread, bialys, bagels. Baking the daily inventory are Jose Mateo and Gregory Blanc both trained by Travis. I love that Jose moved up in the kitchen at Gjelina/GTA and Mr. Blanc was simply a devoted regular customer, a businessman with a background in hospitality who wanted to bake bread.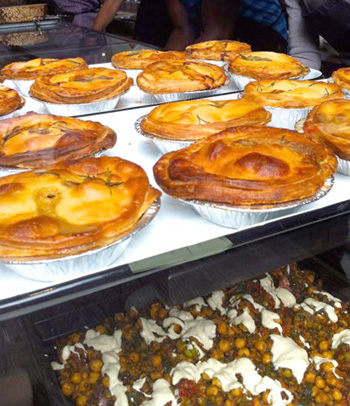 Aside from Travis' considerable talents evident everywhere in the space there's the insane force that is Nicole Rucker, now a friend, who I met when she swept the KCRW Good Food pie contest 3 years ago. People cried "unfair!" when they learned she worked at GTA aka Gjelina Take Away, (as a manager, not a cook) not understanding that her extraordinary pies were the result of a humbling loss the year before. That she decided to make 8 pies a day until she felt she had the winning formula speaks to who she is as a maker. Gifted, yes, but also highly competitive, especially with herself and with a voracious appetite to experience and learn from anyone who has something she feels is worthwhile learning. Nicole is a part of the new normal now in Los Angeles, a scene at once collaborative and competitive and wholly passion fueled. A culinary community coming of age through palates made sophisticated through travel, tasting, testing and sharing information.
So it wasn't surprising that the first morning they opened I walked in to find several young restaurateurs and chefs literally hugging her with congratulations on what appears to be the opening of everyone's dream food hall. Nicole and her team are responsible for the savory and sweet pastries which range from crazy delicious croissants to whipped cream topped cream pies, pot pies, brownies etc.
Husband and wife team formerly of the Soho House Matthew and Shelly Armistead fill the roles of Chef (Matthew) and COO (Shelly). Matthew's food is gorgeous yet not so beautiful as to be unapproachable. The vegetable dishes look like a real life composition of an Ottolenghi dream. The ham I saw on the back counter was massive with a crisped skin just waiting to be shattered. I'm looking forward to plunging into a vat of the charcuterie, especially the duck confit displayed dipped in a coating of it's own fat so that somehow each leg looking like it was rolled in fondant. The nearly floor to ceiling rotisserie filled with huge chickens at various stages of burnished color when I was there, will I expect, soon find slavish repeat customers.
This is a place that will only get better with time as staff gets through these chaos filled first weeks learning how much they need to make to keep those cases full.
The biggest challenge, the flow of ordering and payment, will be GM Dagny Mendelson's to perfect. That is always a big job with food hall setups when you're ordering foods from several different stations, but paying at one cashier. But if they do it like I was taken care of, assigning one lovely, informed counter person to shepherd you through all your purchases then turning you over to the cashier to pay, the experience will eventually be easy and streamlined. But, naturally that will take time, as most good things do. I expect Travis will have to find a fish-slicing savant whose entire day will be taking care of those fish orders.
GJUSTA
320 Sunset Avenue
Los Angeles
,
CA
90291
Evan Kleiman is an active speaker on culinary subjects as well as issues of food culture and sustainability and, just to keep a balance, she has a very public love affair with Pie. She's been called the Jerry Garcia of cooking with the freewheeling improvisation she brings to the kitchen. You can follow her exploits on her blog at http://www.evankleiman.com/