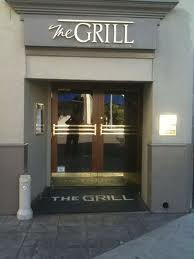 When relatives come for the holidays in the words of the Eagles, it can be "heaven or it can be hell". In our case it was delicious!
My favorite Aunt and Uncle escaped the blistering cold of NYC during this past holiday season and came to visit my family and get a bit of LA sunshine. My uncle is a man who loves his food. It is second only to his wife, my aunt who he's been married to for 32 years and he is still as gaga and giddy as a love struck teenager. It is quite beautiful to behold. As is his wide eyed appraisal of a good menu.
It is fortunate, indeed, that my uncle has done very well financially so he can indulge in both of his passions; spoiling his wife and satisfying his taste buds. Living in NYC and traveling the world they eat in the best restaurants so needless to say when they come to LA, we eat well. Since they stay at the Beverly Wilshire Hotel and enjoy driving in LA traffic about as much as we do, we confined our restaurant hopping to Beverly Hills.
The night they arrived we took them to my uncle's favorite, The Grill on the Alley. Simple and straightforward and one of the few places you still find liver and bacon on the menu, it's always my uncle's first stop. He was beside himself ordering the chicken pot pie, which has no relation to the Stouffer's version I knew as a kid!
It is huge and could feed a family of four. The good news here is that with my daughters both home for the holidays we are a family of four so half of it came home with me! My uncle had to save room for his rice pudding. Another oldie but goodie you don't find on most dessert menus anymore. Talk about your down home menu with an uptown clientele! Lot's of head turning and neck craning walking in and out. A fine welcome to an LA moment!
The way we ended up doing our dining out was that we hosted them to a couple of dinners and they hosted us to a couple. Next up was their treat to New Years Eve at Spago which was amazing both food and festivity wise. Spago keeps its gold stars for a good reason, the food is wonderful. The New Years Eve prix fixe menu, kept the food coming all night. Spicy tuna in cones, potato balls with caviar, Dover sole, lamb chops as big as the poor baby lamb itself, and the finale a banana ice cream chocolate thing that if I have to wait for next New Years Eve to taste again, I may die. There was a DJ and a dance floor full of guests in party hats welcoming in the New Year. It was a total blast.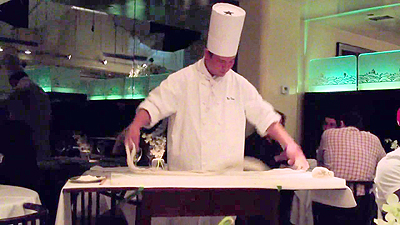 Their other treat was Mr. Chow's. The four of us sat marveling over the fact that Mr. Chow's has been in Beverly Hills for 41 years with the same décor that looks as cool and stylish today as it did when it was first created. Their menu also hasn't changed much, offering the very same Gambei With Goodies often referred to as "seaweed" which I still can't get enough of, the Squab in Lettuce Cups and of course their Gamblers Duck. The people watching is better than ever and the noodle making show still fascinates. I could have eaten several plates of the seaweed and be a happily stuffed camper.
The last night's outing was on us. My uncle was in the mood for Italian food. Keeping it close to their hotel put Angelini Osteria and a couple of other of our favorites off the list. Beverly Hills has its fair and fine share of Italian restaurants so my husband and I brainstormed. Il Pastaio, is fun if you want to sit close to your fellow diners and be on the scene. We took them to e.baldi on their last trip and they weren't knocked out, so where could we take them where it would be cozy yet comfortable, lively but not noisy, and where my uncle's eyes would light up reading the menu? My husband said "I know, Via Alloro!"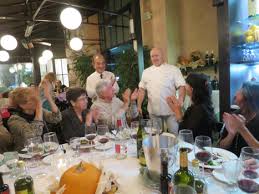 "Really?" I said skeptically having just gone there for a few great weekend lunches, but never for dinner. When my husband reminded me that Via Alloro is part of the Drago Brothers consortium, I thought about those long delicious weekend lunches we've had there with friends and said, let's go for it.
After Spago and Mr. Chow's, and this being their last meal of the trip, I wanted to see smiling faces and full stomachs!
What I didn't know (surprising after all the years and all the meals) is that one of my uncle's favorite dishes in the world is Linguine Alle Vongole…ye olde spaghetti with clams. Loves it. Loves it like it's number one on his "name your three favorite foods" game list.
Via Alloro was a huge hit. We started with a simple margarita pizza for the table. Thin crust with beautifully melted mozzarella on top. It was perfect.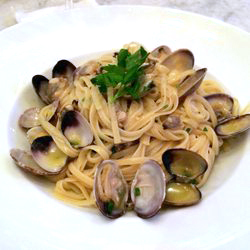 My pasta dish - penne with turkey sausage in a pink sauce - could be my new favorite dish in the world. Just writing about it gets me thinking I should probably go there for dinner immediately, if not sooner! But the real test was my uncle and his pasta with clams. The man was in heaven! His "this is up there with the Grill" is the equivalent of five Michelin stars!
Besides the food being such a big hit, the place has a great Sunday night family dinner vibe. Full, but not a mad house, it feels comfortable and comforting like the place you'd bring the kids and grandparents for traditional Sunday night get togethers.
This feeling is aided and abetted by the staff. Almost "throw back" in their waiting approach. The waiters are mostly Italian guys who have been part of the Drago brother's team for years. There's no, "Hi I'm Troy and I'll be your server tonight" around here. Just prompt service, lot's of Italian warmth and big smiles as they see you enjoying your food.
Warmth and big smiles, what family visits are all about.
VIA ALLORO: 301 North Canon Drive, Beverly Hills, CA 90210 / (310) 275-2900
LINGUINE VONGOLE - Courtesy of Via Alloro
Linguini Pasta with Clams, Garlic, White Wine and EVO
Recipe for 4
Ingredients:
16 oz. Linguini Pasta
32 oz. Manila Clams
3 each Whole Garlic sliced
3 Tablespoons of EVO
8 oz. of Cooking White Wine
Pinch of Red Crushed Pepper
Pinch of Parsley
Pinch of Salt
Method:
Place Linguini in a Large Salted Boiling Pot, mix occasionally to prevent sticking. Sauté Garlic in olive oil in a large pan until Gold Brown. Add Clams, White Wine; cook until all clams are open.
Once Linguini is cooled Al Dente, drain and place it inside the pan with clams, add table spoon of pasta water to the pan, mix all together, add and continue cooking for one more minute. Toss it with EVO, Parsley, taste, adjust and serve.
LA based Writer, Annie Stein, has written for C and More Magazines, NYTimes and is a regular blogger on Huffington Post. She runs creative writing workshops for at risk teens.