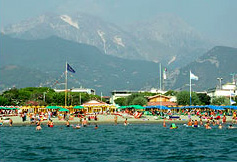 Jill was done. For three weeks I'd been force-feeding her on a take-no-prisoners march through the restaurants of Italy. I had all but nailed her feet to the floor. And then four days in Rome – dio mio, Roma! If you don't eat well in Rome, you're an idiot.
Now she was on strike. "Forgive me, honey, but I have to go light tonight", she said. "Just a little grilled fish and a salad. And no wine."
This last was underlined as if to indicate it should have some special meaning for me.
"Just eat what you want, baby" I said, moving right past it. My focus was on the menu, planning my point of attack.
We were in Ristorante Lorenzo in the stylish seaside resort of Forte Dei Marmi, just down from Pietresanta on the Tuscan coast. Versilia is the beautiful name Italians give to this region. Lorenzo is not only the best restaurant in town but one of the most stylish, most satisfying in all of Italy.
No sooner had Jill drawn her line in the sand than the maitre d' swooped in low over her shoulder and poured each of us a glass of champagne – on the house. She frowned, watched me taste it, waited, then watched me taste again.
"How is it?"
"Really good."
She sighed – like a prisoner refusing the blindfold before the firing squad – and took a long sip. Almost immediately a little smudge of red appeared on her cheek and an Aqua Velva shimmer bubbled up in those beautiful eyes. We were off.
"May I recommend the seafood antipasto? It is a specialty of the house." The waiter.
We nodded. I asked him to suggest the wine as well. As I get older I'm more inclined to be less the expert on wine.
"Do you like raw fish?"
"Yeah ... but we like it cooked as well."
I didn't feature a whole evening of sashimi. He smiled and said he understood.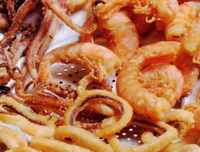 First came the wine, a chardonnay from the Alto Adige, fresh and flavorful. Then the antipasto unfolded like a set of Chinese boxes. He served us each a plate of the raw fish – a single raw shrimp, sea bass tartare, and a red mullet cake. Sushi Italian-style.
Then our waiter, who was fast becoming our best friend, brought us plates of fritto misto – little tiny fried things of the sea. Baby prawns no bigger than a thumbnail, whole squid – head, tentacles, and all – seemingly miniaturized down to an inch long, and a croquette of shrimp and béchamel – all flash-fried to perfection. Lemon to squeeze.
I began to pick up speed.
He brought delicately braided fingers of swordfish sitting in a pool of the best pesto ever – we were just down the coast from Genoa, where pesto was born. Then he served a beautiful plate of two perfectly poached giant shrimp resting on a fresh tomato sauce, which reminded me of biting into a Jersey tomato right off the vine in late August. Then came the soup – a rich, herb-filled fish stock with orzo and chunks of sea bass.
And that was just the antipasto. Jill was in shock. I quickly signaled for another bottle of wine before she got herself back into focus.
I learned about Lorenzo from my friend, Giorgio Baldi, one of the great restaurateurs of Los Angeles. Giorgio comes from Forte dei Marmi and he always gets a glint in his eye when he talks about it. So, when we were planning this jaunt to Italy, I called him from New York for suggestions. He was in the kitchen – as always – but his daughter, who runs the front of the house, called back my question to him.
"Lorenzo, of course!" I could hear that all the way from the kitchen. Then his daughter started laughing, "Wait a minute, he wants to talk with you." I could hear them laughing as he tried to pull the phone from her.
"There is a place, una taverna, Da Beppino, in a very small village, Valdicastello, just up the hill from Pietresanta. This will be a very different experience from Lorenzo. Molto semplice, molto rustico, but ... you will love the food."
That's all I had to hear.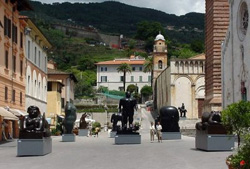 So, the day after the Lorenzo blowout I had to figure out a way to get Jill to sign off on another major feed. Misdirection was probably the best tack – get her mind on anything other than dinner.
So first thing in the morning I asked her if she wanted to go see all those little artists' studios in Pietresanta. She lit right up.
We schlepped around all day, hiking up to the marble quarries, poking around the back streets of Pietresanta where the sculptors worked, checking out all the churches – everything she liked to do. And, in the meantime, she was working up a good appetite without even thinking about it.
That evening we went to Pietresanta again – to shop the galleries that were tucked away on the little side streets, showing their favorite artists of the moment. Jill was in heaven, riding a major art high. By the time we pulled up to the restaurant, she was beaming and actually, blessedly, hungry.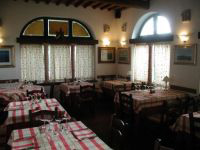 Da Beppino feels like it's been there a long time, maybe centuries, turning out food that makes people full and happy. The entrance is tucked in the back, off the road. We were early – most Italians don't even think about dinner until 9:00 or 9:30 – and we stumbled into the kitchen entrance by mistake. Good mistake.
There was a long wooden table going down the center of the kitchen where all sorts of prep was going on and, at the end, where the kitchen joined the main dining room, was a gigantic hearth with chickens, poussins, and little guinea hens all roasting on a spit.
The dining room itself was of ancient construction – thick, oak beams holding up the low ceiling, wine bottles stored everywhere there was a cranny to stick them in – and the feeling I got was of these old beams inhaling the smoke from the chicken-fat hitting the fire for maybe a hundred years or so. It was, as I said, my kind of place.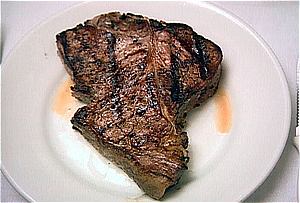 Our dinner was as simple as it gets: Jill finally got her salad and finished with a poussin off the fire. I started with a bowl of pasta with a ragu that must have come from heaven itself, and then moved on to the best steak I have ever eaten – a formidable fiorentina grilled over the fire – and a large plate of fried porcini to go with it. We had a bottle of the local red, which was great – we were, after all, in Tuscany – and that was about it. A plate of cheese to finish off the wine.
It was as different as one could get from the night before, but I'd be hard pressed to say which meal was better. If Jill were to single out the best thing she tasted it would be the flan of zucchini and truffles at Lorenzo. For me, well, I can't stop dreaming about those porcinis. How God can put that much taste into so little a package – I don't know.
It was good that Jill got a little break that night. The next day we drove to Da Cesare in Albaretto delle Torre – but that's another story.

Ristorante Lorenzo
Via G. Via G. Carducci 24
Forte dei Marmi
Tel. 0584 89671

Eno-Trattoria "Da Beppino"
Via Valdicastello Carducci 34
Pietrasanta (Lucca)
Tel. 0584/790400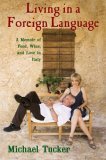 Michael Tucker is an actor and author whose second book is the recently published Living in a Foreign Language: A Memoir of Food, Wine, and Love in Italy