The Perfect Sandwich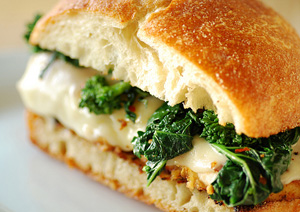 How did chicken sandwiches become so popular in the U.S.? Supply and demand. The emergence of large scale chicken processing companies such as Perdue and Tyson in the 1920's and 1930's respectively, helped propel chicken's popularity in America. With such easy availability, chicken prices decreased, consumption increased, and chicken became a steady part of the American diet.
With many families cooking whole chickens, leftovers became standard lunch fare. Sliced leftover chicken meat became a favorite filling for sandwiches (and was the original filling for the classic club sandwich).
Fast food chicken sandwiches as we know them originated in 1967, when Truett Cathy, founder of the Atlanta based restaurant chain Chick-fil-A, introduced the chicken sandwich -- a perfectly crispy-on-the-outside, juicy-on-the-inside breaded boneless breast of chicken served on a toasted buttered bun with dill pickle chips. Whether it's fact or fiction, Cathy claimed that pickles were the only condiment he had on hand, and to his delight, were a big hit with consumers. Other fast food chains quickly followed suit. Then in the late 1980's and early '90's the grilled chicken sandwich emerged as a healthier alternative to the fried original.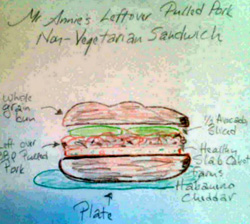 Since I photograph at least 50% of what I cook and bake, just in case I might someday wish to write about it and preserve an ephemeral cupcake or casserole for posterity, my camera is always where I can easily find it. Today, however, my camera was at a Minor League baseball game with Sam, after a prolonged series of "pleaspleasepleasei'llbe caaaaaaaaareful!" attacks wore me out. It didn't occur to me until after we had eaten what I considered to be an interesting lunch that I could have photographed it using my phone – I just scrapped the whole project when I remembered that my camera was on walkabout among a herd of sugar-addled sixth graders.
I had made really good sandwiches based on things lying around the house: leftover whole grain buns, two different kinds of cheese with hot peppers, pulled pork with barbecue sauce, an abandoned avocado…stuff like that. Mr. Annie got two giant sandwiches piled high with pork, Cabot Habanero Cheddar and avocado, and I made myself a more modest vegetarian model with no pork and a healthy pile of spicy alfalfa sprouts. Alas, these gems of thrifty husbandry were doomed to slip away (literally and figuratively), unmarked.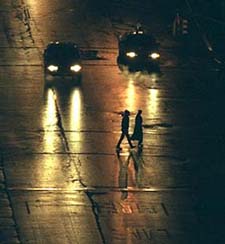 "I'm hungry. Can someone please help me? Please. This is serious. I haven't eaten since early this morning. Please." The plea came from a diminutive man I had just rushed passed on 8th Avenue in New York City. He was wearing a grey cap pulled down over his forehead and held a tattered white plastic shopping bag. It was 12:30 a.m. A hard March wind was blowing through Chelsea and everyone who passed this pleading man, was hurrying to someplace warm, including me.

I had just eaten at one of my favorite joints Casa Mono. I started with the pulpo with fennel and grapefruit and followed with the dorada with artichokes and langostinos (the langoustine tail meat was a bit mushy but still flavorful.) My belly was full and I still had the glow of a quarto of solid Spanish red.

For a reason I still do not know, after getting a few steps past this man, who was all but invisible to passers-by, I stopped and waited for him to catch up. When I offered a dollar bill to him, he said, "No man, didn't you hear, I'm hungry. This is no joke. I don't want money. I'm just very hungry." "Really, no bullshit?" I said.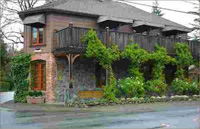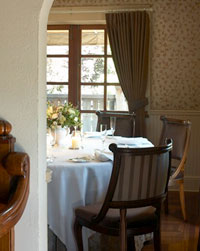 I went to the French Laundry restaurant located in the Napa region (specifically, Yountville, California) in 1996 and haven't been able to get a reservation since – at least until a week ago. Of course, that's what happens when a chef later becomes tops in the U.S. and his restaurant is voted tops in the world. But with one day's notice, I was told my group of four were in. Pack your dinner jacket we were told. They should've added cash out your 401k and clean out your savings account with a scrub brush. The price to party was now $240 per person for a nine course tasting menu (two options: Chef's and Vegetarian) not including wine – a decent bottle (not a case) of which will cost you $200 more.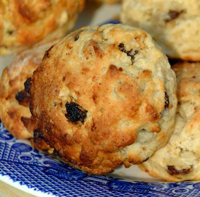 My mother stayed with us during her recent visit from back east. She emerged early each day from the back bedroom in need of coffee. In the kitchen she would find me up to my elbows in three-grain biscuit dough or in the midst of mixing a large oven baked pancake, or perhaps dropping oatmeal scones onto a cookie sheet. I was always in the midst of something made from scratch, time consuming and terrifically messy.
A ritual that was met with a quizzical look and her quiet reproach, as if I couldn't hear her say, "Nu? Whats wrong with frozen waffles?" My childhood breakfasts came straight out of a box from the freezer in the cold mid-western kitchen where I grew up. My mother taught in downtown Detroit, and early morning school days were mostly about getting up and getting out. Yet, somewhere in between the up and out part, I remember a breakfast ritual that my mother and I shared, just her and I, before she left for work.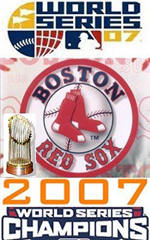 It's hard to believe that baseball season is about to begin again. I see bits and pieces on the news about players reporting to Spring training. I see photos of fathers and sons dressed up in their player's favorite jersey, watching an early practice, hoping to get an autograph. The excitement is building of those summer nights at the ballpark; that all-American warm, fuzzy feeling most folks associate with baseball.

My thoughts are far from warm and fuzzy, more like torture and terror. On October 30, 2007 at 2:30 am, my phone rings. I struggle to find the phone, wondering who died. I hear a voice "Hello, this is Scheduling, can I speak to Laura." All I can say is "yes?" "Laura, we have a trip for you. You are going to fly to Denver and then to Boston and back to Atlanta today." Excuse me, it's 2:30 am, is this a joke? When did we start flying to these destinations in the middle of the night? I'm not sure what I said but I get an answer.

"The Boston Red Sox won the World Series a few hours ago and by the way, you are the Flight Attendant in charge." (I've since learned that no team would jinx their chances of winning by booking the plane home before they actual clinch the trophy.)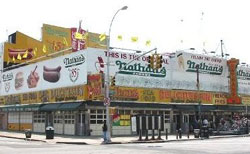 My dad was a two job guy. We lived in a representative, working class neighborhood in Brooklyn, which was to me, the paradise of the world. Representative I learned years later meant not just Jewish people, like us, but an equal mix of almost everything else. The working class is obvious.

My dad worked at a brokerage house on Wall Street as a runner from 9 to 3. That was his first job. His second job was at the Morgan Annex branch of the US Post Office, in mid-town Manhattan. He had started at the PO as a teen-ager, and was in it for the longest possible haul, a modest pension being the carrot at the end of his rainbow. His hours on that job were 4 pm to mid-night. He rode the subway to work. He never owned a car. Once in a long while he got driven home.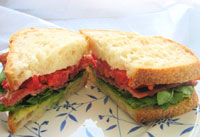 I don't know if Mae West ever ate a Cobb Salad, but I bet she would have loved it. After all, she was the one who said "too much of a good thing is wonderful". A Cobb Salad begins with a bed of Romaine lettuce, think of it as your basic crunchy blank canvas. Resting on the greens are strips of toppings – luscious chunks of avocado, juicy fresh tomato, crumbles of rich blue cheese, hard boiled eggs and chunks of chicken breast. Frankly I've always found the chicken to be superfluous, but maybe that's just me.
by Annie Miler (Clementine)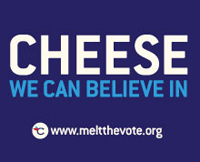 The 2008 National Grilled Cheese Month Campaign kicks off at Clementine on Tuesday, April 1st with an exciting and diverse field of grilled cheese candidates. Grilled Cheese Primaries will be held at Clementine during the first 4 weeks of April. Each week, five different sandwiches will campaign on the menu and when you order a sandwich, your vote will determine which sandwiches earn a spot on the ballot for Super Cheeseday(s), April 28-30. Your votes on Super Cheeseday(s) will determine the winner, our next Commander in Cheese, the Highest Sandwich in the Land.

One of the problems with sushi bars is that they have weaned us away from enjoying cooked fresh tuna. I know some restaurants serve grilled tuna studded with black pepper or accompanied by some exotic fruit salsa – de rigueur for any California joint that sells fresh fish. But really that's about all the variety you get in most joints. But you are really missing something if you haven't tried a real tuna fish sandwich. The great thing about sautéing tuna is that it really soaks up the flavors in which it is cooked. Here's a recipe I have every summer during albacore season but you can use any fish in the tuna family. This recipe borrows from Italy, Mexico and Japan.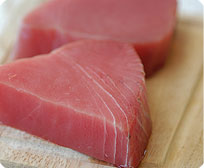 Tuna Ingredients

12-16 ounces of fresh tuna cut into 2 equal pieces
juice of 2 medium lemons
2 minced garlic cloves
2 green onions cut into about 1/4 inch pieces
1 teaspoon fresh grated ginger (about an inch piece grated)
2 roma tomatoes thinly sliced
1/4 cup minced Kalamata olives
1 small to medium minced jalapeño pepper
1 teaspoon Kosher or coarse salt
2 tablespoon sherry or sake
olive oil or grapeseed oil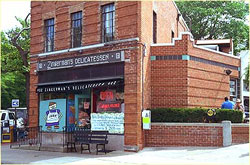 I have a vivid memory of my parents entertaining friends on Christmas Eve in 1982. My mother threw all of her Protestant tradition out the kitchen window and ordered Zingerman's pastrami on rye sandwiches with giant garlic pickles. I was enthralled by this rebellion at age six, although I had no understanding of what pastrami was. I just knew it was special.
The ingenious ingredients and thoughtful, bountiful preparation is half of the magic pf the pastrami sandwich. The other half is the Zingerman's magic, the palpable feeling of community provided by the owners, Paul Saginaw and Ari Weinzweig, who instill in all of their endeavors a familial rhapsody. (I have dined at the Roadhouse and had Ari come to the table to fill up my water glass more than a few times…enough said). In a town high on intellect, Zingerman's employment is looked upon as social cache (or junior college).