St. Patricks Day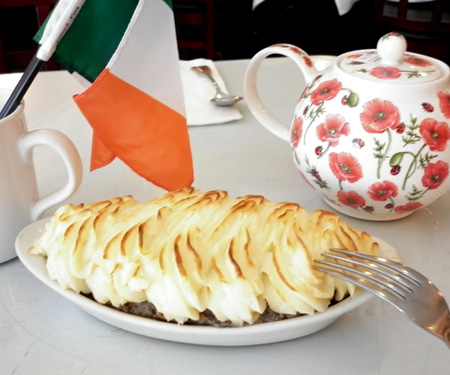 I have such a fear of being that vegetarian: the one who shows up at a dinner party or holiday feast and realizes that there is nothing for me to eat. That is also known as the "Starving Vegetarian," or the "Really Quite Put Out Vegetarian." I try to do my due diligence, and let hosts know ahead of time about my dietary restrictions, even offer to provide my own dish if they don't have the time or inclination to provide one for me. This is known as being the "Not Completely Obnoxious Vegetarian."
When a host does ask me to bring my own dish, I'm not too annoyed: it's another excuse to make my Vegetarian Shepherd's Pie, which I will certainly be doing this March 17th. While I have very fond memories of my mother's annual St. Patrick's Day corned beef and cabbage, I'm not sure what would happen to my insides, and subsequently my outsides if I ate it again after nearly two decades of abstaining from meat, which lead me to concoct what I consider to be a happy medium between traditional fare and a dry cleaners bill, "Vegetarian Shepherd's Pie".
Who does not need a Bailey's Irish Cream Cake for tomorrow? Trust me you do. If you are out of Baileys, run out and get some, it will be on sale this week. Is this cake good? OMG. Yes.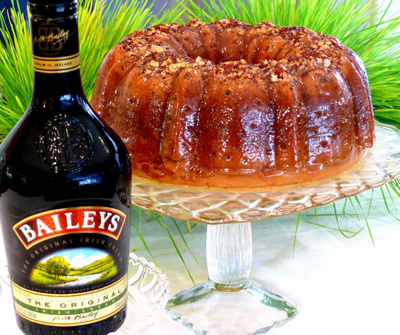 Bailey's Irish Cream Cake
Adapted from Recipe Girl via Big Sis Lil Sis
Cake:
1 cup chopped pecans
1 package yellow cake mix
1 (3.4 ounce) package instant vanilla pudding mix
4 large eggs
1/4 cup water
1/2 cup vegetable oil
3/4 cup Irish Cream liqueur
Glaze:
1/2 cup butter
1/4 cup water
1 cup granulated sugar
1/4 cup Irish Cream liqueur
Start by greasing and flouring a 10-inch bundt pan. Sprinkle pecans over the bottom.
In a large bowl, with a mixer, combine yellow cake mix, vanilla instant pudding mix, eggs, water, oil and Irish Cream liqueur. Pour batter over nuts in pan. Bake for 60 minutes in a 325 degree oven or until toothpick inserted in center of cake comes out clean.
Cool for 10 minutes in the pan. Flip the cake out of the pan and cool completely on a wire rack.
While the cake is cooling, make the glaze. Combine butter, water and sugar in a small saucepan. Bring to a boil and continue boiling for 5 minutes, stirring constantly. Remove from heat and add Irish Cream liqueur.
Prick top and sides of cooled cake with a skewer. Spoon glaze over top and brush onto sides of cake. Allow the cake to absorb the glaze and repeat until most of the glaze is used. Save some glaze to pour over sliced pieces. You'll be glad you did.
– Recipe courtesy of Noble Pig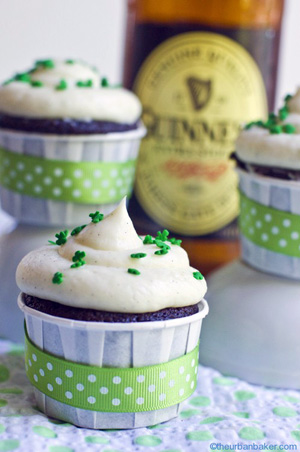 It's St. Patrick's Day this week and since I don't really drink, I figured I would just find ways to incorporate booze into my food. As I have learned from baking with stout in the past, beer is a surprisingly wonderful addition to stews, brewed drinks, and cakes.
Originally, I wanted to make a triple layer cake. I could only find 2 of my 3 eight inch cake pans and I wasn't really in the mood to go and purchase an additional cake pan for this project. This cake didn't really have a purpose. I did't need it for any specific occassion or event, I was just in the mood. I invisioned the chocolate cake with Bailey's buttercream frosiing and green chocolate clovers around the perimeter of the cake. I found clover lollipop molds, but could not track down mini clovers.
Change of plans. I went with cupcakes. I know; there are tons of "green-themed" cupcakes circling the internet right now. Not totally original, but what the heck – lots of people in my community benefited from my baking whim. I made minis for Isaac's classmates, larger ones for the M's and the G's, and the office gals got an unexpected afternoon snack.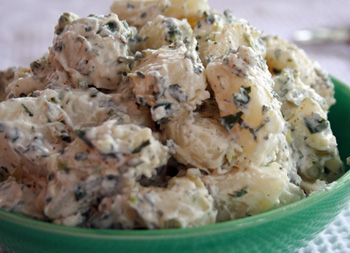 Root vegetable. Corned beef. Sauerkraut. Rye. Gedney dills. It all adds up to something Irish. And a little bit Minnesotan.
When I got together with friends for a potluck meal last week, the theme was Something Irish, Something Green.
I had just gotten the Lee Brother's newest cookbook, "Simple Fresh Southern," and found their recipe for Green Godess Potato Salad. Seasoned just right with fresh parsley and tarragon, a splash of champagne vinegar and some lime juice, the light mayo and sour cream-based dressing is just what the potato doctor ordered. And perfect for a "Green" potluck.
I made the Green Goddess Potato Salad for the potluck. It was enjoyed by all. With just a tiny bit of the potatoes remaining after eveyone had a chance to eat, I brought them home and discovered it is the perfect salad to eat with Reuben's.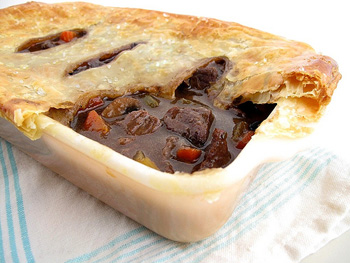 I love all types of savory pies, but one in particular is very special to me. The first time I ever heard of beef and Guinness pie was during my time studying abroad in London. I was so intrigued that I ordered it at a quaint, tiny restaurant that specialized in pies aptly named the Pie Room. It became the hang-out spot for my group of friends. Over the course of our studies we could not keep away. I had the opportunity to try all of their pies. Beef and Guinness pie made the biggest impression on me and it still remains among my top favorite British foods. I can clearly remember my first bite: a tender cube of meat, a luscious sauce, and a crispy crust. So as St. Patrick's Day neared this month, I decided I wanted to cook something other than corned beef and cabbage.

When I think of Ireland, the first thing that comes to mind is the drinking culture. What surprised me the most about my time in London was seeing everybody on a Friday night drinking in hoards out in the streets around the pubs. Stereotypically everyone seems to think negatively about the drinking culture. But as someone who lived in Great Britain, I can say that it is a very enjoyable and communal way of meeting people, getting people together, celebrating life's events, or just for talking about the day over a few pints of stout or ale. I've not yet had the chance to visit Ireland, but if I do, I will make sure to visit the many pubs and make a pilgrimage to the temple of my favorite beer, the Guinness factory.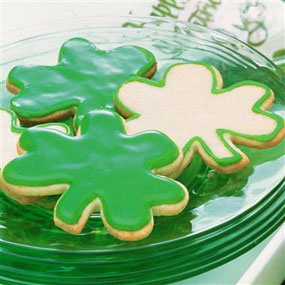 Ever since I was in grade school, St. Patrick's' Day has been a day when I wish I was at least a little bit Irish. The teachers at my school instructed their Irish students to wear something green on St. Patrick's Day. The rest of us – orange.
So, while many of my friends came to school wrapped in green sweaters, donning fuzzy green shamrocks on their shirt, or wearing green socks, I would come with an orange headband in my hair. I would have preferred green.
As a young baker, though, I made sure our family had shamrock-shaped sugar cookies frosted in green on St. Patrick's Day. I never told my teachers. To this day, I don't wear a bit of green on St. Patrick's Day – my teachers taught me well. But, I don't wear orange, either.
I just sneak a little bit of Irish into the foods I eat on that special day.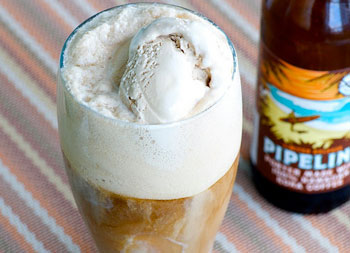 St. Patrick's Day. It's all about meat, 'taters, cabbage, and leprechauns. No wonder this Italian girl from New England has never gotten excited about it. Fortunately, it's also about beer, and that does get me excited.

I'm a late-comer to beer, but I love it; since I live in San Diego, that's a good thing. With a whopping 33 breweries producing craft beer, San Diego was recently crowned the top beer city in the country by Men's Journal.

I just discovered an amazing seasonal beer calle Pipeline Porter. It's brewed by Kona Brewing Company in Hawaii but distributed to only a handful of markets including San Diego. It may just be the perfect beer for a Beer Ice Cream Float.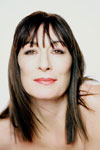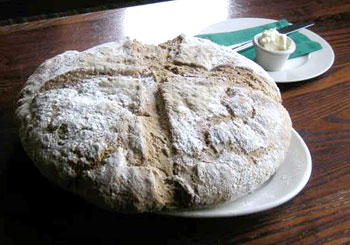 I grew up in Ireland, and we ate Irish soda bread every day with breakfast, lunch and dinner. This is a recipe that my family inherited from our cook in Ireland, Mrs. Creagh, and it's the best that I know.
This bread is particularly delicious toasted at breakfast time with salted butter and my homemade pomegranate jelly: The salty and the sweet are just fantastic together. If you don't have pomegranate jelly, do as the Irish do and spread with salted butter, then top with smoked salmon and capers with a drop of lemon. Unbelievably delicious.
Alright, even though we have been working so hard on what the heck we are going to make for Easter, I almost forgot about St. Patrick's Day. Gasp! I mean I never miss a chance to celebrate those dang rainbows, pots of gold and little green people. So instead of pulling out the Lucky Charms once again, as your go to St. Patrick's Day feast...why not make this? And don't even say, "I don't like corned beef, wah, wah wah'. It's tradition people, it's all about tradition. AND THIS will take tradition to another level, I promise.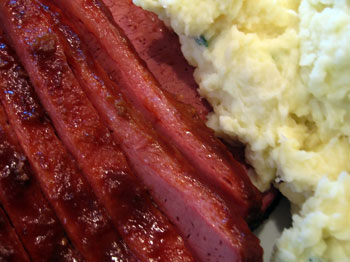 Whiskey-Glazed Corned Beef
Adapted from Cuisine at Home
Submerge in Water; Simmer
1 corned beef brisket (3.5-4 lbs)

Whisk Together
1/2 cup ketchup
1/2 cup whiskey (such as Jack Daniel's)
1/2 cup apple cider vinegar
4 Tablespoons brown sugar
4 Tablespoons soy sauce
2 teaspoons dry mustard
1 teaspoon ground ginger
1/2 teaspoon red pepper flakes
Submerge corned beef, fat side up, in water, in a large pot. Cover and simmer over low heat until beef is tender when pierced with a fork, 3 hours. (If chilling overnight, keep the meat in the liquid. Bring it to a simmer the next day, then continue with the recipe).