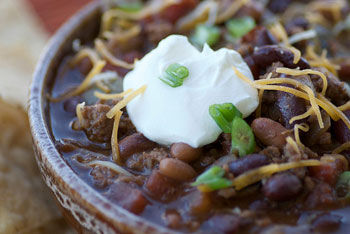 It's big. It's bad. It's Boozy Beef Chili.

Full-bodied porters or stouts, such as Guinness, add complexity and depth to otherwise ordinary beef chili. Make it for St. Patrick's Day or anytime you feel like having a belly-filling bowl of hot chili.
Serves 6-8

1 tablespoon canola or olive oil
1 large yellow onion, diced
1 large green or red bell pepper, chopped
1- 1/4 pound ground beef
1 1/2-2 tablespoons chili powder
1 teaspoon cayenne pepper
1 teaspoon ground cumin
Several shakes of salt
2 tablespoons light brown sugar
2 (14.5 oz) cans of pinto or red kidney beans, drained
1 (14.5 oz) can diced tomatoes with the juice
1 (12 oz) bottle dark beer, such as Guinness stout
1 tablespoon corn meal, to thicken, optional

1. In a large pot over medium-high heat, saute onions and pepper in oil for 5 minutes. Add meat. Cook until browned, about 10 minutes. Stir in spices and sugar. Add beans, tomatoes, and beer and stir. Bring to a boil. Reduce to low and simmer for 20-25 minutes, or until thick and soupy. Stir in cornmeal if you want the chili thicker. Taste, and adjust seasonings as necessary.

2. Top servings with any of the following: shredded Cheddar cheese, sour cream, diced avocado, sliced green onions, or fresh cilantro. This chili tastes even better the next day.
- Recipe courtesy of Susan Russo