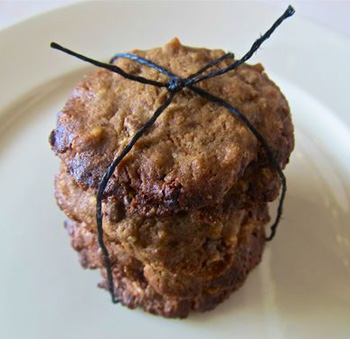 The other day my mother asked me, "Of all the things you cook, which one do you love the best?" I replied, "Dessert! All kinds. English trifles. French tarts. Cakes, cupcakes, and cookies." It was a set up. She smiled and asked with a tilted head, "Cookies?! What kind?!"
So I made her some cookies. She sat and watched me as I played with a recipe, offering suggestions and licking the bowl. Her dog, Maggie, sat on her lap hoping for something to drop.
I made a cookie with an overdose of espresso powder and a subtle amount of finely chopped pecans and I learned so much from it.
First of all, that I absolutely love this recipe and how it turned out.
Second, I made silver dollar size cookies (mignardises) first with the dough, and they really were superb, so intensely coffee flavored that they would be perfect on the side of a shot of espresso coffee.
Third, I made bigger size cookies with the dough, and they were perfect to tie up with a bow and present to my patiently waiting mother.
The finely chopped pecans added just the right amount of crunch...
Espresso Pecan Cookies
Ingredients:
2 sticks sweet butter, room temperature
1/4 cup dark brown sugar
3/4 cup white sugar
1 large egg, room temperature
3 tablespoons espresso powder (Medaglia d'Oro)
1/8 teaspoon salt
1/4 teaspoon vanilla extract
1 2/3 cups unbleached all purpose flour
4 ounces Hershey's mini semi-sweet chocolate chips
1/2 cup finely chopped pecans
Cooking Directions:
Makes 24 regular size cookies
Heat the oven to 350 degrees F.
In the bowl of a stand mixer, beat the butter and both colors sugar until fluffy.
Beat in the egg, espresso powder, salt, and the vanilla extract. Beat until well incorporated.
Add in the flour, mini chocolate chips, and pecans and beat until blended.
For regular size cookies, scoop a tablespoon of dough and mound it on a baking sheet. Continue until all the dough is used up. You may have enough to use an additional baking sheet.
Bake for 11-12 minutes, remove from the oven and cool.


Hillary Davis is the author of French Comfort Food, Cuisine Niçoise, and A Million A Minute. She is presently at work on her next cookbook. You can follow her food adventures in France and around the world on her blog Marché Dimanche.