No matter how you season it, grilled wild caught salmon is one of the healthiest sources of protein there is. The nutritional profile of one 4-ounce serving shows that it provides 22 grams of protein–almost half of the 46 grams an average woman needs each day– but has just 161 calories! (Even though it's a bit more expensive, I really recommend wild caught salmon. Farm raised salmon can contain contaminants you don't want in your food. And since farmed fish are fed on fatty fish meal and penned all their lives rather than swimming in open water, a 4-ounce portion can have up to 240 calories and twice the fat of wild fish.)
And by serving the salmon on a bed of greens and topping it with a salsa made of beans, cucumbers, mangoes, onions and hot pepper, you add sweetness, spice, texture, loads of fiber and vitamins and a bit more protein…which will help you feel satisfied without needing a second serving of fish.
All in? This quick and easy supper will fill you up in a BIG way for LESS than 300 calories! So whether you're enjoying fall in New England and building a fire–or in the sweat lodge we call California where we're hoping firefighters can put them all out–try this dish, hot or cold, without breaking a sweat!
SOUTHWESTERN SPICED SALMON
6 4-oz. wild caught salmon filets (If you prefer, you can grill a larger piece of fish and divide it accordingly after cooking…)
2 t chili powder
1 t ground cumin
1/2 t ground coriander
1 t sea salt or kosher salt
2 t olive oil
Mix the ingredients into a paste, gently rub it into the salmon and cover and refrigerate until you're ready to grill. If you don't have a grill, cook the salmon in a non stick pan 4-5 minutes a side. If you start with the skin down, it will release enough fat that no extra oil will be needed. (The fish can be seasoned and refrigerated up to 24 hours ahead.)
BLACK BEAN, CUCUMBER AND MANGO SALSA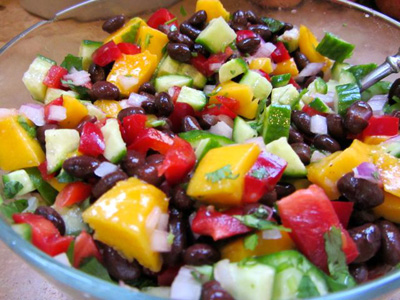 (This recipe makes about 6 cups of salsa…more than you'll need for 6 salmon filets. But make it all anyway. With this ready-to-go salsa in your inventory, you can make a super quick lunch, snack or a completely new dinner in the days that follow.)
1 can whole black beans, drained and well rinsed (Make sure you rinse the beans in a strainer or the juices will discolor the other ingredients.)
1 medium red bell pepper, small dice
1 medium (or 2 small) Persian cucumber, small dice
1 c ripe mango (about 1/2 mango), small dice
1/2 c red onion, fine dice
1 fresh jalapeno, minced
2 T fresh cilantro, minced
zest and juice of 1 large lime (about 2-3 T juice)
2 T seasoned rice wine vinegar
1 T good olive oil
Salt and Pepper to taste
Mix all ingredients together in a bowl and refrigerate until needed… (If you can, make this the morning you plan to serve it. The flavor just gets better and better as it rests.)
To Assemble:
Fill a plate with greens, top with a 4 ounce portion of hot grilled salmon and 3/4 cup of the bean, cucumber and mango salsa and serve. (Tip: since you're working the grill anyway, go ahead and throw on some fresh asparagus…it adds another element of taste and texture but almost no extra calories.)
This dish, by the way, works just as well cold. If you're grilling something else on Sunday, go ahead and grill the salmon and asparagus, make the salsa and refrigerate. When you get home after a Manic Monday the next night, dinner will be ready in 5 minutes!