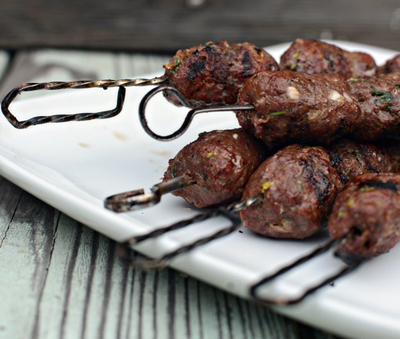 It's been a very, very short summer. I am not at all happy that 2 of my 3 kids are returning to school this Tuesday. WTF…it's mid August! Packing lunches, getting up early(not a problem for me, but for them-YES), and routine is all part of this weeks drill.
Honestly speaking, I barely cooked this summer. It felt great to take a break, yet with school two days away it's time for me to get back into the kitchen. Shopping, prepping, and organizing has filled my weekend. Cookies and brownies are made and frozen (perfect snack for the lunch box), farmers market organic fruits are flash frozen (great for morning smoothies), salad dressings are made and bottled, veggies are washed, meat and chicken are grilled (for easy sandwiches or simply served on their own), and the meal planning has begun!
Spending 30 or so minutes each morning on prep will allow me to get these nutritous and balanced meals on the table each night. Tonight's dinner is one of my favorites. Combining all the ingredients in the morning allows the meat to marinate all day. Shaped into balls, skewered, and grilled, this is one of those perfect 30 minute meals.
I usually make a double batch because the leftovers makes a great lunch the next day. My family likes to stuff all these goodies into a fresh pita, but I like mine carb free. If you have a local Israeli or middle eastern market in your hood – pick up your pita's there. They do not even compare to the super market brands.
I topped our dinner off with a creamy, rich Pot de Creme. Isaac returned from 3 weeks at sleep away camp and this is one of his favorites. For me, I will be opting for a bowl of fresh raspberries, but that won't stop me from watching my kids enjoy their dessert tonight.
Kofta Beef Kebabs
Ingredients:
4 cloves garlic, chopped fine (or passed through a garlic press)
1 tablespoon Celtic sea salt
1 pound ground, grass fed beef
3 tablespoons grated onion
3 tablespoons chopped fresh flat-leaf parsley
1 tablespoon ground coriander
1 teaspoon ground cumin
a pinch of red pepper flakes
Freshly ground black pepper
Instructions:
In a large bowl combine the garlic, salt, grated onion, parsley, spices, and the meat. Mix to combine. cover and refridgerate for atleast 4 hours(I marinate them all day).
Line a plate or a pan with wax paper. Using a 2 tablespoon ice cream scooper, form into balls and set on prepared wax paper. Once all balls are formed, shape them into ovals and thread 4 ovals on each metal skewer.
Heat the grill and brush with oil. Grill kebabs, turning until brown all over and cooked through, about 10-12 minutes.
Serve immediately with lots of sides!
Susan Salzman writes The Urban Baker blog to explore her dedication to good food in the hope of adding beauty to the lives of her family and friends.