My sister and I have a pretty terrific food store called The Green Spot we have owned or more accurately been the worker bees at for many years., It has an energy all it's own. It's a gathering place for people to come to when they are happy and it is a place people run to when they need good solid honest advice of the non-food type, if you know what I mean.
Each day we never know what will unfold when it is time to open the doors at nine o'clock. One thing, or well maybe two things, that we do know is that it is sure to be interesting without question and second what every figurative 'fire' needs is dousing. And we surely know how to do that with grace.
A few years ago Lucy Dahl who summered on a lake not too far from our store said that her Mother was coming to visit for a long weekend and she was excited to introduce us. Like anyone expecting company we wanted our store to be perfect because Patricia Neal was coming to visit. Oh my, Patricia! How proud our mother would have been because she admired her tenacity and talent so much. Patricia Neal was coming to our food store in a little town in central Maine. I was humbled and speechless!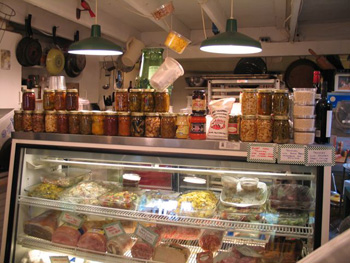 My sister was quite the opposite, she turned into a neurotic overbearing, obsessed woman, otherwise known as a nervous wreck. She yelled and screamed until the Windex bottles were emptied; washing everything made of glass until it was starting to look etched, including the wine bottles.
We buffed, polished and rewrapped everything. We ordered some new unusual items to jazz up our inventory. We waxed the floor with 3 new coats of high gloss wax on our hands and knees, all 2002 square feet of it. Our customers, who must have sensed our flurry, knew that something was going on.
We told only 2 customers that we were expecting 'THE' Patricia Neal. Our store was so manicured I felt if most of our customers knew who was coming to visit our shop they would surely have taken off their shoes BUT, my lips were sealed. I wanted her to visit and feel just as relaxed as her daughter felt being there and you know what, we didn't want to share our time with her with anyone.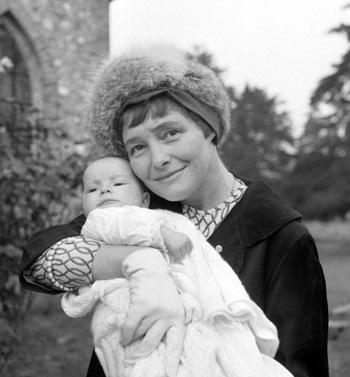 Lucy drove to the tiny Augusta airport to pick up her mother but stopped by our store to give us the heads up and pick up some snacks to have in her SUV when her mother arrived knowing full well that the trip wouldn't be an easy one for her. The first leg of her trip was on a small plane from Martha's Vineyard and then a transfer from Boston to Augusta in an even smaller plane. I hoped that the rain would hold off until after she landed and it did!
At half past 6 Lucy in her big burgundy Expedition pulled in and parked out front as far from our entrance so she wouldn't block other customers. By this time my sister was madly sweeping the floor for the third time in less than a half hour so when I saw Lucy and Patricia I was very excited in more than one way.
Lucy opened her mom's car door and then said "mommy, take your time, I'll meet you inside."
That's when I popped a mint in my mouth and I headed out to personally greet Patricia and escort her into my store. All the while hoping that my sister had put that darn broom out of sight. Patricia and I strolled arm and arm at a slow rate, she was no doubt looking at my shiny, glistening windows as I admired her beauty.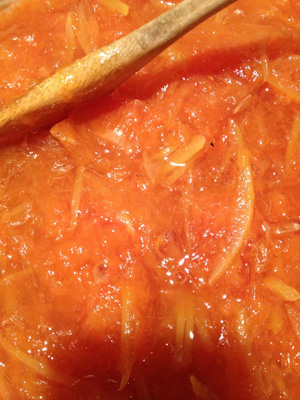 When we arrived inside we stopped in front of my sister, and Lucy said "Mom, these are my friends" and introduced us. We all paused and then I offered to give her a tour of what our store had that was special and different from most food stores. I showed her all the neat things that we hand make like: mozzarella, ice cream, jams, marmalades and chutneys. That is where she stopped me.
"Oh, you make marmalade?"
I replied that I did, but only in the winter so by this time of year I am nearly out. I knew somewhere on the center shelf was one jar of tangelo marmalade made with a wisp of coriander seeds. It would make a perfect present. I found the singular jar! Patricia announced that she didn't like " too sweet marmalade" and I said I made mine in the traditional English style, not very sweet and full of soft, thinly sliced rind. Heck, it was a present, just smile and say thank you...
She looked over the whole store and in her deep raspy voice said: "Darling, how long have you been cooking?" and silly me, I said "I've been cooking since I was 2 1/2" and before I got another word out she said I mean TODAY, how long have you been cooking, TODAY?
I assured her I cook all day and that I usually have 3 things going on different burners at once adding that if I didn't cook that much daily we'd get behind really quickly.
That answer satisfied her, then she turned to Lucy and said "So let's shop for dinner. What shall we have?"
Brenda Athanus runs a small gourmet food shop in Belgrade Lakes, Maine with her sister Tanya called the Green Spot.
The Green Spot
This email address is being protected from spambots. You need JavaScript enabled to view it.
207.441.9327