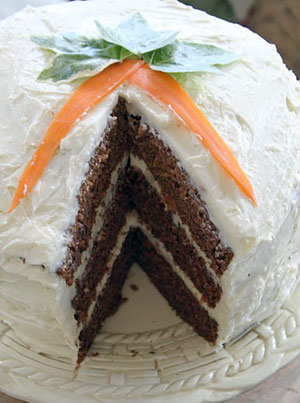 So, we had this awesome carrot cake down on Cumberland Island last November for our father's birthday…the cake was baked and smuggled onto the island by Julie, Daddy's wife and our new personal gourmet chef! This cake is unbelievably good and it is one of those dishes that lingers in your mind long after the last crumbs have been eaten. Obviously so, since I had the cake back in November and I was still reeling about it come February. I had to make the cake…I had to make the cake Julie's way, so, I did. I followed her tweaks and tips for a successful cake and boy oh boy was it!
One of her tweaks on the traditional carrot cake recipe is to soak the carrots in cinnamon for three days…THREE DAYS!!! I thought this was crazy, but I wasn't going to improve upon such a phenomenal dessert. Four cups of shredded, cinnamon soaked carrots, along with oil, flour, sugar, soda, eggs, additional cinnamon and salt constitute this cake. It is easy breezy to make, but takes some thoughtful culinary twists to enhance this dish to the next level.
Another tweak is the garnish…toasted and salted pecans. Now I could eat my weight in pecans, but toasting these and any nut for that matter brings out the flavor and enhances anything they complement. Butter and salt…good butter and sea salt mind you. No skimping there. The sweetness of the cake matched with the salty pecans is delectable.
Yet, the cake's sweetness isn't so much of a sugary sweet, but an earthy sweet brought on by the carrot and cinnamon love fest created three days prior! What else could this cake need…well, the perfect icing…a frosting of cream cheese lightly sweetened and buttery to perfection.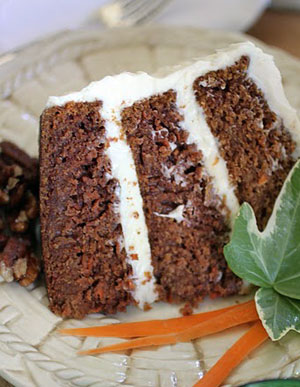 I am not a huge icing or frosting person…more of a purist when it comes to cake. I like cake. Pound cake, angel food, chocolate…plain, UNLESS the icing or frosting is something so good that it ENHANCES the cake, not fighting it. Cream cheese icing takes the cake here…pun intended.
Good butter (I have a whole post on butter coming up soon), cream cheese and just enough confectioners' sugar, to make it slightly sweet, make up this frosting. Vanilla – enough for slight color and flavor – melds perfectly with the aforementioned trio. From first bite to last, this cake hits the pallet in all the right spots…sweet, salty, moist, crunchy, smooth, and creamy…all at the same time. It invites to the other senses to play as well, since it smells lovely and is quite beautiful to look at too!
From one Farmer's kitchen to another Farmer's kitchen, Julie's carrot cake was a hit all around. I've had it for breakfast, for dessert, and for a snack…sadly watching it dwindle down to a few measly crumbs on the cake plate. Don't worry; they'll be eaten too…
Carrot Cake
2 cups sugar
4 eggs…I use extra large eggs…always at room temperature for baking.
1 cup cooking oil
2 cups plain flour
2 teaspoons cinnamon
1/2 teaspoon salt
2 teaspoons baking soda
4 cups grated carrots
Beat eggs and add sugar until blended…add oil and continue to beat.
Mix flour, cinnamon, salt and soda with a fork in a separate bowl then add to the wet ingredients.
Fold in grated carrots.
Bake for 30 minutes at 350 degrees F…I did for 27 minutes since I feel my oven cooks fast…use the "clean toothpick in the center" method for best results after 25 minutes to gage doneness.
Cool for a few minutes and remove from the pans and allow the cakes to totally adjust and be brought to room temperature.
Cream Cheese Frosting
1/2 box of confectioners' sugar
2 blocks of 8 oz cream cheese…room temperature cream cheese.
3/4 to 1 stick butter…go on and use the whole stick and use GOOD butter!
2 teaspoons vanilla…good vanilla
Toasted Pecans…coated in melted butter and used for garnish…I used halves.
The tweaks that make this DIVINE:
Four cups of carrots. Grate and stir in cinnamon three days prior to baking the cake. Use enough cinnamon to be able to smell it, and give it a brownish color.
Toasted pecans… I used an Irish (Kerry Gold) unsalted butter that I melted then adding coarse salt. Plus, the coarse salt is pretty too! Single layer the nuts on an oven pan or baking sheet and toast on 350. Keep watch as they will burn…once they have begun to smell they're bout ready! They should be slightly darker than their original color. Nothing better than the smell of toasted pecans!
Frosting: One stick (or equal) of quality butter – Julie likes the Italian one best, that comes from the Reggiano region. Kerry Gold, Land o Lakes, and Publix brand work well too. Don't forget to add a little salt when using unsalted.
Two boxes of cream cheese… And powdered sugar to taste. A whole box is way too sweet. Vanilla, just enough to smell and color should be slight...you don't want it too runny. I made the frosting the day before I frosted the cake so it would stiffen up a little, refrigerating it over night. The next day, I placed it on the counter for an hour or so before frosting the cake…just so everything and everyone is at room temperature. It will work fine too if your mix it and then frost the cake…just don't frost a warm cake!
I made extra frosting with the increased butter and cream cheese for a three layer. If you are making the cake in a 13 X 9 pan, you won't need this much, so just use what is listed....unless of course, you just want to eat it on the side!
James T. Farmer III was born and raised in Georgia, where he continues to live and work as a landscape designer. He shares his love of food, flowers and photography on his blog All Things Farmer.