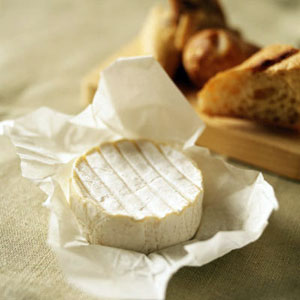 It started with cheese and frackers. Between ages three and four I switched out a rented violin for a full junior pro drum kit, and graduated to brie'n'bread in the snack game.
The drumming got more serious, and the brie'n'bread began to demand increasing attention. Unlike my gateway attachment to cheese and frackers (typically cheddar and wheat thins), snack time rocketed into a new dimension. The Brie expanded my young palate at the same time musical taste tended toward Bruce Springstein blasting from my Fischer Price turntable.
At pre-school, I made up Boss routines with long wooden blocks serving as guitars and stacks of short blocks comprising imaginary keyboards and drums, while for snack they served peanut butter on graham crackers.
The J.C.C. also dished out falafel for an Israeli appreciation day and screened foreign Sesame Street videos in which Snuffaluffagus' heavy strides appear more like davening. Appetizing and entertaining, though if we could only have a French day along with some brie'n'bread, I thought. It just competed way too hard with the alternatives.
I recall my first encounter with a cold, shiny, orange cutout of American cheese. Watching the little girl whose mom offered it to me during a play-date unwrap hers and tear little tabs off, eating it in what I then considered insignificant, impersonal fragments. I now love the stuff, but at that point was a snobby, fussy four-year-old cultivating an uncompromising infatuation with brie'n'bread.
It was the most impressive two-move meal I had come across. I asked for it incessantly. "Brie'n'bread, mommy, brie'n'bread," I pled. And most times, magically, it would appear along with the smile of motherly pride for raising such a good eata.
One memorable day my mom packed brie'n'bread for lunch. I was thrilled. Could hardly contain myself through the morning knowing what was in store. Running through Born In the U.S.A. for the umpteenth time, swinging on the monkey bars and a couple trips down the slide might have appeased me a bit. But when lunch came, my focus was set.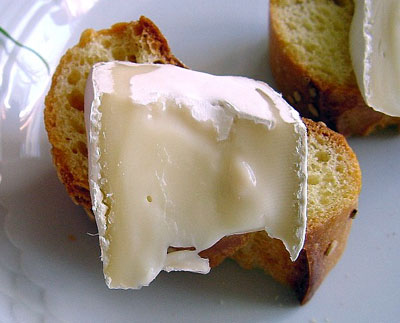 I ran for my Smurfs lunchbox and opened it up to find two pieces of dark bluish walnut bread and a pyramid of brie in a ziplock. All the pieces were there. Except a utensil.
I hesitated. Rummaged through the lunch box again. Looked up for a plastic knife, spoon or fork somewhere nearby, but only found the befuddled looks of my classmates staring at what was in my hand. Some looked genuinely upset.
Self-consciousness crept in and gave way to shyness. I looked down and started smearing the slices of bread with handfuls of Brie. "What is that?" "Are you gonna eat that?" "Ahhhh, gross", I heard.
I couldn't believe it. My most coveted grain and dairy combo was taking endless heat. I wasn't necessarily making the most attractive case for it. But come on, I thought, this stuff is saintly.
Try? I offered it around. "No way," scrunched-up faces said. I chewed off a chunk of Brie relaxed on a thick slice of walnut bread and gulped it down along with my pride. Wished for the brie-haters to someday understand, and quietly enjoyed my messy lunch to myself. 
Some things are too good to be damaged by controversy.
Louis Gropman loves to eat, has always loved to eat, and is probably eating right now. If not, he's either writing or humming to himself. His non-fiction Notes From the Driver's Seat and Inaugurate the Day will appear soon, either by those titles or in alien form.